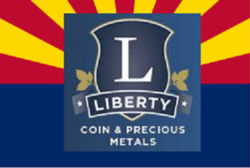 Scottsdale, AZ (PRWEB) April 23, 2012
In celebration of Liberty Coin & Precious Metals, Scottsdale, AZ, North America's low-price precious metals leader is offering fantastic specials on gold and silver bullion, such as Silver American Eagles at $2.60 over spot with free shipping and other fantastic offers!
Walk-in to Liberty Coin & Precious Metals today, in Del Mar, CA and Scottsdale, AZ to experience the comfortable setting of a brick-and-mortar gold and silver outlet. The personal atmosphere of Liberty Coin & Precious Metals cannot be beat. When investing in gold and silver, platinum and palladium, make sure you get looked in the eye! Shop at Liberty Coin & Precious Metals, Scottsdale, AZ and be offered one of the tightest buy/sell spreads in the industry.
As President Mark Lonneker has said about the business model he started more than two years ago:
"Our goal from the beginning has been two fold; we wanted to be able to deliver a professional looking website that showed our current buy and sell prices for our products and we also wanted a physical presence in the form of an actual store location. From my personal buying experiences, I always felt more comfortable buying from a company that had an actual store location instead of a company that was strictly internet based and only had a mailing address. We accomplished this by opening our first store in Del Mar, California."
In the coming weeks, Liberty Coin & Precious Metals will host renowned silver investor David Morgan at their new location. Be sure to stop by Monday April 23, 2012 in order to meet President Mark Lonneker himself and discuss the exciting precious metals markets.
Liberty Coin & Precious Metals offers walk-in customers the opportunity to be their own trader between the hours of 10 a.m. and 5 p.m and 10 a.m. and 2 p.m. Saturdays. You can make phone orders, and lock-in your price between 6 a.m and 5 p.m. Monday-Friday and 10 a.m.-2 p.m. Saturday.