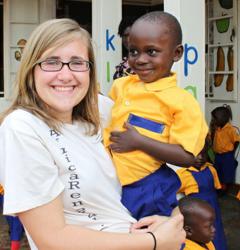 I would recommend that every student go on a mission trip. It's one thing to hear about it, and it's another thing to see it for yourself.
Westlake Village, CA (PRWEB) April 25, 2012
Jessica Gash, from Oaks Christian School (OCS) in Westlake Village, CA, is completing the second half of her junior year in Kampala, Uganda and helping with medical mission teams. While her father is working with the Uganda High Court on juvenile justice projects, Jessica, her mother, and her two siblings (who will enroll in OCS in the fall) are volunteering with Africa Renewal Ministries, an organization that runs Wentz medical clinic, an orphanage and schools, and a sponsorship program all over Uganda to help children that can't afford schooling. Jessica has been able to help Dr. Jay and his family, who are also in Uganda for six months, by working in the blood lab, testing for HIV and malaria, or in the clinic pharmacy dispensing medicine. Besides working in the mobile clinic, Jessica has also been able to go on overnight trips for medical missions to Jinja, Gulu, and Mubende, and done many more local day trips to the surrounding area to do child screenings and community clinics. Jessica has found her passion in doing medical work. "I wasn't sure what I wanted to do with my life, but since coming here, I learned that I want to be a doctor or nurse in the mission field for as much of my life as I can," Jessica wrote.
Jessica also has developed a love for Africa and the people of Uganda in particular. "People are generous, even if they have very little, and very grateful for what they do have," she said, "the only difficulty I have (in Kampala) is with the internet and the mosquitoes." Jessica is taking her junior level courses through Oaks Christian Online School(OCO). While taking her online English, Physics and Advanced Placement American History courses, she recently had a unique excuse to her teachers for late school work: a ship had cut an undersea internet cable and made logging in to her courses difficult. Jessica has found, though, that completing courses online has worked with her busy medical mission trip schedule. She has enjoyed working ahead when possible and relating to the Christian component of the courses. Jessica commented, "The courses make me think about how God has made a difference in my life and how that relates to what I am learning."
Jessica misses her main campus friends and activities at Oaks Christian School (OC) but will be joining several OC students on a short-term mission trip to Kampala in late June. She'll be working with them briefly and then heading to Kenya to work with her church, the Pepperdine University Church of Christ, before heading home in July. Jessica reflects, "I would recommend that every student go on a mission trip. It's one thing to hear about it, and it's another thing to see it for yourself."
The main campus of Oaks Christian School in Westlake Village, CA opened in the fall of 2000 and Oaks Christian Online School (OCO) opened for full-time, online students in the fall of 2011. The online school provides a rigorous and challenging college preparatory education for high school students all across the country in a Christian environment. Oaks Christian Online School continues to enroll part-time and full-time students throughout the school year and regularly hosts information sessions on its main campus – 31749 La Tienda Drive, Westlake Village, CA 91362, as well as virtual information sessions for prospective student families. Interested students can visit the website http://online.oakschristian.org to R.S.V.P.
For additional information about Oaks Christian Online School, its courses, curriculum, admissions or application process, please visit http://online.oakschristian.org, call 855.462.6257, or contact a school representative at online(at)oakschristian(dot)org.