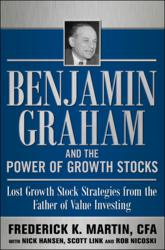 This complete guide shows you why Graham's game-changing formula works and how to use it to build a profitable portfolio.
(PRWEB) April 25, 2012
Austin, Texas: Benjamin Graham, who is generally recognized as the Dean of Wall Street, had more influence on how stocks are analyzed, bought and sold than any other investor in Wall Street's history. His name is nearly synonymous with the value investing process. Yet, late in his career, Graham developed a formula and methodology for recognizing the value of growth stock investing and then introduced both concepts in a chapter that was included in the 1962 edition of his book "Security Analysis." However, that chapter was omitted from all subsequent editions of the book published over the next 20 years, which has meant that readers of those subsequent editions were denied the opportunity to benefit from some of Graham's most powerful insights.
Now however, in his new book "Benjamin Graham and the Power of Growth Stocks" (McGraw-Hill, 2012), Fred Martin, president and chief investment officer of Minneapolis-based Disciplined Growth Investors, Inc. (DGI), provides individual and professional investors with a step-by-step guide to building profitable portfolios using Graham's forgotten growth stock picking strategy. Martin wrote the book with Nick Hansen, Scott Link and Rob Nicoski, who are also with DGI.
Among other things, Martin explains in the book how to:

Develop a seven-year forecast for every company you consider for your portfolio
Zero in on the factors that are critical to making good investment decisions
Create a margin of safety when investing in growth stocks
Find the hidden "barriers" and "handcuffs" that signal doom for a company's growth
Use four simple steps to estimate a company's future value
Martin also draws on his own experience picking growth stocks by discussing investing best practices and pitfalls-to-avoid. In addition, "Benjamin Graham and the Power of Growth Stocks" features Graham's complete missing chapter – the first time it's been published in 40 years.
One of the country's preeminent money managers, Martin credits Graham's investing principles for much of his success. Prior to co-founding DGI in 2001 (He is now its majority owner.) Martin worked for Mitchell Hitchins Asset Management, which was a subsidiary of Paine Webber, Inc. at the time, and as an equity analyst for Minneapolis' Northwestern National Bank, which is where he began his investment career. Martin received a BA from Dartmouth College and a MBA from the Amos Tuck School.
"Benjamin Graham and the Power of Growth Stocks" (McGraw-Hill, ISBN 0071753893/978-0071753890, hardcover, $40.00) is available at neighborhood bookstores and at all major online bookstores.