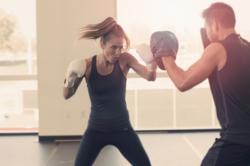 Baltimore, MD (PRWEB) April 24, 2012
Under Armour (NYSE:UA), the leading performance apparel, footwear, and accessories brand, today unveiled its new "What's Beautiful" digital experience and competition, the brand's largest female-focused challenge to-date. The social media contest provides women with a motivational online community designed to help them meet and exceed their physical goals through a series of training challenges. The three women who rise to the top of the "What's Beautiful" challenge will receive the ultimate reward – a one-year sponsorship deal with Under Armour.
The "What's Beautiful" contest will be hosted on the microsite whatsbeautiful.ua.com and a mobile app. The experience will be featured in :30 and :60 digital spots, online media, and across Under Armour Women's social media channels. Through the microsite, women will be encouraged to declare a goal that challenges their personal fitness and athletic aspirations and post proof of their progress in the form of videos, photos, and diary entries. Under Armour will advance each woman's personal goal by testing participants with 19 UA challenges and providing competitors with special motivational content from guest trainers, shout outs from UA athletes, gear giveaways, and the latest news from Under Armour on the "What's Beautiful" community homepage.
"Women should be the ones to tell society what it means to be a female athlete and beautiful," said Adrienne Lofton Shaw, Senior Director, Women's Marketing, Under Armour. "The 'What's Beautiful' experience offers a platform, community, and competition for our female fans to redefine the word 'beauty' by showcasing, honoring, and celebrating their hard work."
After nine weeks, Under Armour will nominate ten finalists based on the strength, drive, and determination highlighted in their stories and original content submissions to be featured on the "What's Beautiful" homepage and mobile app. Ultimately, three winners will be named – two by Under Armour selection and one by public vote.
The three "What's Beautiful" women who push themselves the hardest will be awarded a one-year "sponsorship" deal with Under Armour, transforming their lives with access to special events, training with UA celebrity trainers, gear for a year featuring the latest Under Armour® products, nutritionist consultation and support, and inclusion in Under Armour Women's marketing efforts.
The remaining finalists will earn an ongoing spot on the Under Armour Women's Ambassador Team. They will receive $1,000 worth of the latest in Under Armour gear and serve as part of Under Armour's elite advisory group, providing feedback on key products and helping define the face of the Under Armour Women's brand.
The "What's Beautiful" digital experience was co-created and co-produced by the in-house Under Armour creative team, Philadelphia-based full service ad agency, Red Tettemer + Partners, and acclaimed advertising agency CP+B.
For more information on the What's Beautiful digital experience, visit whatsbeautiful.ua.com or follow Under Armour Women at http://www.facebook.com/underarmourwomen or @UAWomen. To view exclusive videos, check out the http://www.youtube.com/underarmour page.
About Under Armour, Inc.
Under Armour® (NYSE: UA) is a leading developer, marketer, and distributor of branded performance apparel, footwear, and accessories. The Company's products are sold worldwide and worn by athletes at all levels, from youth to professional, on playing fields around the globe. The Under Armour global headquarters is in Baltimore, Maryland, with European headquarters in Amsterdam's Olympic Stadium, and additional offices in Denver, Hong Kong, Toronto, and Guangzhou, China. For further information, please visit the Company's website at http://www.UA.com.
About Red Tettemer + Partners
Red Tettemer + Partners is a full service agency that stops at nothing to make its clients unforgettable. They build ideas on every platform and through every discipline from Brand Planning to Interactive; PR, Social Media and Community Building to Design; and Media Planning and Buying to Broadcast Production. Red Tettemer + Partners has played in just about every category and is currently working and having a blast with clients such as Century 21, Dial for Men; Front Burner Brands (including The Melting Pot, Grillsmith and Burger 21); FOX Networks; Greater Philadelphia Tourism Marketing Corporation; parx Casino; Pennsylvania Tourism; SEPTA; Ska Brewing Company; Tub Gin; and Under Armour. For more information, go to http://redtettemer.com.
About CP+B:
CP+B, a member of the MDC Partners network, has a client list that includes Microsoft, Unilever, Kraft, Phillips, Coke Zero, American Express, Domino's Pizza, MetLife, Old Navy, Applebee's, Discovery Networks, SAS, Arby's and Best Buy. CP+B has more than 850 employees worldwide, collaborating across six factories: Boulder, Miami, Los Angeles, Toronto, London and Gothenburg, Sweden. The agency is one of the most-awarded agencies in the world, having been named "Interactive Agency of the Year" three times at the Cannes Lions International Advertising Festival, "Agency of the Decade" by Advertising Age and "Agency of the Year" 13 times in the trade press. They also have the unprecedented distinction of being the only agency to have won the Grand Prix at Cannes in every major category. For more information, visit http://www.cpbgroup.com.
###