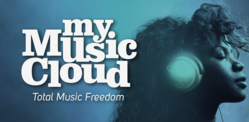 New York, NY (PRWEB) April 23, 2012
When you find something great, you naturally want to share it with your friends. MyMusicCloud is now rewarding users who have friends register for the cloud music service. From the MyMusicCloud Web application, users can invite friends with a unique link through Facebook, Twitter and email. For every friend who completes registration to the cloud music service, the user will receive 250 MB of additional cloud music storage for free (up to 3 GB).
MyMusicCloud was the first cloud music service to enable users to access and enjoy music across various brands and types of devices as well as different operating systems. The unique cloud music service has been featured on BBC World News and RollingStone.
MyMusicCloud enables users to sync their iTunes and other media players across virtually every type of mobile phone, tablet or personal computer, including BlackBerry, iPhone, Android phones, Samsung, HTC, Nokia, Sony Ericsson and Motorola. Users with multiple device types can use MyMusicCloud as one seamless, cross-platform solution. For example, users can sync and listen to all of their music on an Apple iPad together with an Android, BlackBerry or Nokia phone. The synching of the music is all done over the air and automatically, without the need for a USB cable or a "sync" button.
MyMusicCloud also enables users to sync music files from their Dropbox account, buy music from the store, view songs' lyrics, crop ringtones and share their music taste with Facebook friends.
Availability and Pricing
MyMusicCloud is free and is available at http://www.mymusiccloud.com. MyMusicCloud offers online storage of up to 2 GB of songs for free and the ability to purchase additional storage starting at $10 annually for an additional 5 GB. Users in the U.S., Canada and the U.K. can purchase and download music from the MyMusicCloud store. The store offers over 11 million songs for prices starting at $0.19. More information about MyMusicCloud can be found at http://www.mymusiccloud.com, Facebook and Twitter.
About TriPlay
TriPlay is a premier cloud services company, enabling users worldwide to easily access, manage, share and enjoy their music, photos and videos across any computer, mobile phone, tablet and Web-enabled television. TriPlay is a privately held company with offices in New York and Israel. More information about TriPlay can be found at http://www.triplay.com.
Media Contact:
Ann Krauss
PERCEPTURE
Phone: 520.331.2327
ann(at)percepture(dot)com
©TriPlay. All Rights Reserved. TriPlay and MyMusicCloud are trademarks or registered trademarks of TriPlay in the U.S. and other countries. Any other trademarks are used for identification purposes only and remain the property of their respective owners.
###