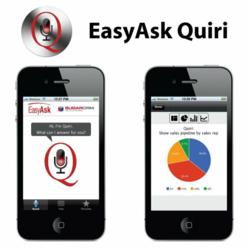 Quiri integration with SugarCRM will provide tremendous gains in productivity and sales insight
San Francisco, CA (PRWEB) April 24, 2012
EasyAsk, the leader in natural language technology and solutions, introduced EasyAsk Quiri for SugarCRM, SugarCRM is the world's fastest-growing customer relationship management (CRM) company. The new solution provides an intuitive interface that gives sales people and managers seamless access to information and intelligence within the SugarCRM platform. The announcement was made at SugarCRM's 6th annual SugarCon event, an annual customer, user and partner conference being held April 23-26, 2012 at The Palace Hotel in San Francisco, California.
EasyAsk Quiri provides the optimal mobile experience, utilizing patent-pending technology to engage users – making them more productive and putting the right information in their hands anywhere. For a video demonstration of Quiri for sales, click here or go to (http://www.youtube.com/watch?v=NFop1jU7a_g).
Quiri offers users Siri-like built-in speech recognition and natural language processing, allowing users to conveniently speak their business questions and get immediate answers. Users tap a microphone button, speak a request and Quiri retrieves the answer from existing corporate data.
In addition, EasyAsk Quiri for SugarCRM provides an easy way for entire sales organizations to track, analyze and manage sales operations within SugarCRM. Users simply ask questions about relevant sales topics in English and get fast results from their SugarCRM data. Utilizing a pioneering natural language architecture, similar to that used by IBM Watson to defeat Jeopardy grand champions, EasyAsk understands both the intent and the content of every sales question – an approach that is more intuitive and returns better answers than standard search and analysis products. This is specifically designed for business users, who require easy access to the information they need, when they need it.
EasyAsk is an integrated module running inside the SugarCRM platform, making deployment simple while maintaining the integrity and security of your SugarCRM application. EasyAsk connects directly to your live SugarCRM data to provide real-time results to mobile devices, filtering the data based on the SugarCRM security model and delivering information through trusted, encrypted connections.
"By collaborating with EasyAsk, we are taking further steps to enable the mobile workforce and boost productivity," said Clint Oram, CTO, VP of product strategy and co-founder of SugarCRM. "We look forward to delivering a combined solution that encourages broad user adoption throughout the organization, is simple to use, and enables customers to extract insight from their CRM systems effectively. At the end of the day, we're making it easier for our customers to do business."
Using EasyAsk for SugarCRM, sales executives, managers and teams can ask critical questions and make important requests like:

"Which deals slipped last month?" to identify forecasted deals that didn't close
"When did the orders for XYZ Supply ship?" lets a sales person know if he has delivered before his next interaction with a client
"Show deals in the pipeline this quarter" to provide a sales executive with an update on the state of the sales pipeline
"What's my next appointment?" helps keep a sales person on top of his or her daily agenda
"List deals greater than $50000" to identify large sales opportunities and to display all relevant information about the opportunities
After asking a question, EaskAsk enables easy drill-down and exploration, rich charting and display options. Users can refine questions until satisfied and with a single button, users can share and save reports to collaborate on time-sensitive decisions. EasyAsk further enhances results by returning existing reports from SugarCRM, EasyAsk or other sources that are related to the topics of the question.
"We recognized that Apple's Siri was a paradigm shift in the way people interact with Smartphones, and EasyAsk is changing the way people interact with business applications," said Craig Bassin, CEO of EasyAsk. "Sales people can simply ask their iPhone or Androids for what they need, as if they were asking a colleague. The Quiri integration with SugarCRM will provide tremendous gains in productivity and sales insight. The impact is immediate and dramatic."
About SugarCRM
SugarCRM makes CRM simple. As the world's fastest growing customer relationship management (CRM) company, SugarCRM applications have been downloaded more than ten million times and currently serve over 1,000,000 end users in 192 countries. Over 7,000 organizations have chosen SugarCRM's On-Site and Cloud Computing services over proprietary alternatives. SugarCRM has been recognized for its customer success and product innovation by CRM Magazine, InfoWorld and Customer Interaction Solutions.
For more information, call (408) 454-6900 or 1 87 SUGARCRM toll-free in the US, email contact(at)sugarcrm(dot)com, or visit http://www.sugarcrm.com. You can also connect with SugarCRM on Facebook, Twitter and YouTube.
About EasyAsk
EasyAsk is radically changing the speed and ease of how people find information through the company's ground-breaking natural language search software. EasyAsk software products go far beyond traditional search, allowing users to simply ask questions in plain English and receive highly tuned results on demand. The EasyAsk eCommerce Edition uses this unique technology to deliver an industry leading website search, navigation and merchandising solutions that boosts online revenue through increased conversion rates, better customer experience and agile merchandising. EasyAsk Quiri & Business Edition revolutionize enterprise decision-making, moving beyond traditional business intelligence solutions with easy, low-cost deployment and a unique natural language interface that extends access to information anywhere in the organization.
Based in Burlington, Massachusetts, EasyAsk has long been a leader in natural language information analysis and delivery software. Customers such as Coldwater Creek, Lands End, Lillian Vernon, Aramark, TruValue, Siemens, Hartford Hospital, Ceridian, JoAnn Fabrics and Harbor Freight Tools rely on the EasyAsk software products to run their business and e-commerce operations daily. For more information, please visit http://www.easyask.com.