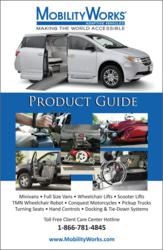 Our clients want the latest designs and electronic features just like everyone else.
Farmingdale, NJ (PRWEB) April 24, 2012
MobilityWorks of New Jersey (formerly Monmouth Vans, Access & Mobility) will display a selection of three different wheelchair minivan conversions now being sold through the company's chain of 20 showroom locations in 12 states. They will be exhibited this May 4-6 at the New York Metro Abilities Expo being held at the New Jersey Expo and Convention Center in Edison NJ. Also making its debut is the company's new 24 page color product guide, designed to help people in wheelchairs to identify the many different options that are available to them for assisting with personal transportation. In addition to wheelchair vans, the guide has photos and information about scooter lifts, wheelchair lifts, hand controls, pickup truck solutions, hand controls, restraint systems and more.
MobilityWorks stated that the conversions on display represent a new level of choices for its customers that want more than just accessibility with their personal transportation vehicle. In addition to ramp access on the side or rear of the vehicle, they also want sleek styling and all the new hi-tech gadgets that come with new models.
Said Ray Morton, General Manager of the MobilityWorks New Jersey store, "Our clients want the latest designs and electronic features just like everyone else. Minivans aren't known for being very exciting, but these really are stylish vehicles."
One of the conversions being shown is the Honda Odyssey minivan. The Honda Entervan conversion is produced by the The Braun Corporation at their Indiana manufacturing facility. MobilityWorks is the leading Braun dealer in the country. The vans are re-engineered for wheelchair use by lowering the floor and installing an automated fold-out ramp. A kneeling system is then added to reduce the ramp angle, making it easier for people in a wheelchair to enter and exit the vehicle. Viewed from the outside, the average person wouldn't know they were looking at a wheelchair van.
In addition to the Honda minivan on display at the Expo, MobilityWorks will also have a VMI Northstar conversion with an in-floor ramp and a MobilityWorks rear-entry conversion. Several of the company's certified mobility consultants from its Farmingdale NJ and Albany NY store locations will be on hand to answer questions and provide consulting services. They will also be giving away the company's new product guide to anyone who stops by to visit. You can also request one through the company's website at http://www.mobilityworks.com.
About MobilityWorks
Headquartered in Akron OH, the company has 20 consumer van showrooms and service centers in 12 states throughout the country. It recently merged with HDS Vans in Atlanta GA with five showroom locations in four southeast states. MobilityWorks represents the largest manufacturers of wheelchair vans in the market, including new chassis conversions of Dodge, Chrysler, Ford, Honda and Toyota minivans. The company also sells reconditioned pre-owned handicap vans equipped with a ramp or wheelchair lift. In addition to their consumer stores, they also have a Commercial Vans Division also located in Akron. The Inc 5000 company is Ford Motor's largest 'upfitter' of mobility vans for commercial fleet use.