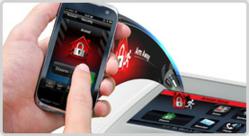 Total Connect offers a security system that lets you control your systems via the web or a mobile device such as an iPhone or Blackberry.
Riversidce, California (PRWEB) April 24, 2012
With Home Security Store and Honeywell's Total Connect, users can remotely monitor and access their home or business security system right from the palm of your hand via a web-enabled device, says Home Security Store Purchasing Manager Andre Perkic.
"How would you like to be at the grocery store, but still know what your teenager at home is up to? You could even be half way around the world and still know," said Perkic.
With Total Connect, one can turn their laptop, iPad, iPhone, Blackberry, Android, and other supported phones into a remote control for your home. "This means a homeowner can arm and disarm your security system or operate and view the surveillance system from afar," adds Perkic.
According to Perkic, Total Connect can provide the following –
Real Time Alerts –
Know exactly when and what zone a sensor is triggered in, when a teenager has arrived home and disarmed the security system. With the right setup, one can even know if the liquor cabinet has been opened or television moved.
Mobile Control –
A user's smartphone becomes a mobile remote, which can control the security system just as if he or she were standing in front of your keypad at home. This means one can disarm a zone or door for a scheduled maintenance call or view and control other security-related events. In addition, users can control from their iPhone, or other smartphone, the viewing and even the movement of the cameras (pending PTZ cameras are in place).
To get started with Total Connect, Perkic explains, customers will need a compatible Honeywell alarm system. "If a user already owns a compatible Honeywell alarm system then you will need to add one of three GSM modules," said Perkic. Keep in mind, for Total Connect to work properly, home and business owners will need to work with a third party monitoring provider, such as Global Systems Security and Sound.
About Home Security Store, Inc.
Home Security Store is the premiere online ecommerce website specializing in home security, including: affordable DIY wireless and hardwired security systems, security cameras, fire alarm systems, spy equipment, survival gear, and more. The company brings together highly-trained, professional technicians and a state-of-the-art product line to provide the most comprehensive home security source found online. The company offers free and fast shipping, plus free tech support. For more go to http://www.homesecuritystore.com