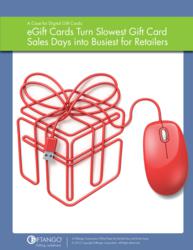 Momentum of online eGift Card sales continues to rise as the holiday approaches.
Portland, OR (PRWEB) April 24, 2012
Giftango Corporation, the digital eGift Card company redefining the standards of gift cards, today has released an official white paper titled "A Case for Digital Gift Cards: eGift Cards Turn Slowest Gift Card Sales Days into Busiest for Retailers."
With data collected in December 2011 from an aggregate of all Giftango retail customers that offer both plastic and digital delivery of eGift Cards from their website, Giftango provides unique information about gift card purchasing trends throughout the month of December.
The Giftango 2011 holiday gift card purchasing trends white paper focuses on the amount of plastic gift cards versus eGift Cards purchased in days leading up to Christmas. The momentum of online eGift Card sales continues to rise as the holiday approaches, and Giftango found that retailers offering only plastic gift cards missed out on a significant percentage of increased sales during this period. Plastic gift cards sold from a website become irrelevant once the projected arrival date of the plastic card passes the date of the gifting event, resulting in a missed sales opportunity.
Those retailers offering digital delivery of eGift Cards created additional sales opportunities by giving customers a convenient solution for last-minute online orders during days leading up to a holiday. Giftango provides data about the highest volume gift card sales days. This helps retailers understand the gift card sales timeline, which enables them to maximize sales during the holidays. Consumers are clearly still interested in purchasing gift cards during the last-minute shopping days around holidays or special occasions, and eGift Cards allow them to do so with immediate delivery. While the data collected by Giftango is specific to the 2011 holiday season, the concept applies to any gifting occasion such as birthdays, anniversaries, or Valentine's Day.
Those interested in learning more about the specific days and drivers of digital eGift Card solutions during the 2011 holiday season, can access the full white paper here: http://giftango.com/news/research-center.aspx.
About Giftango
Giftango Corporation, founded in 2005, has redefined gifting with their innovative delivery of digital eGift Cards to email and mobile phones. Merchants utilize the Giftango platform to power e-commerce sales, a wide variety of promotions, and distribution through Channel Partners.
Giftango's e-commerce solutions enable retailers to sell their own gift cards from their own website. Digital gift cards are delivered instantly via email, SMS text, Facebook wall post and mobile wallet integrations. They include features such as image upload and video. Giftango is integrated with twenty gift card processors and has patent-pending technology. Giftango delivers digital eGift products across more processors and brands than any competitor in the market. For more information about Giftango, please visit http://www.giftango.com.