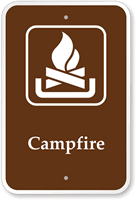 "The new park signs have green, brown, and white color schemes to complement natural scenery. The signs are guaranteed to keep parks safe and fun."
-Daniel Male, Manager of CampgroundSigns.com.
Brooklyn, NY (PRWEB) April 24, 2012
CampgroundSigns.com is launching new Park Signs for the spring and upcoming summer. April is a popular month for campers to beat the heat of the summer months. Signs are invaluable items for managing parks.
Parks nationwide favor April for beginning the camping season. According to the Ohio Department of Natural Resources' website, April is "Go Camping" Month at Ohio State Parks. The springtime is an ideal time to camp before the humidity of the summer and many parks offer guided wildflower hikes and birding programs. Therefore, parks need ways to regulate grounds so that people stay safe and happy.
The latest line of park signs have been designed specifically to enhance the camping experience. "The new park signs have green, brown, and white color schemes to complement natural scenery. The signs are guaranteed to keep parks safe and fun, and are specially printed with 3M outdoor digital inks that last for up to 15 years outside," said Daniel Male, Manager of CampgroundSigns.com. Among the most logical choices are signs that enforce park rules and guidelines. There are popular guide signs found in state and national parks, as well as campgrounds and other outdoor areas. These items highlight campfire areas or indicate that the park closes at dusk. Additionally, park speed limit signs regulate driving areas in the park.
Variety is important, and CampgroundSigns carries products to fit the outdoor camping needs of any individual. At least 300 signs are available by alphabetical order, and others are sectioned off into categories such as Pets and Animals Signs for Parks or Dog Rules Signs. CampgroundSigns specializes in using premium materials. The main options are are durable aluminum that won't rust or fade, hefty plastic, or laminated vinyl.
Custom templates are available if the site does not provide a particular sign choice. For more information, visit http://www.campgroundsigns.com/Park/Park-Signs.aspx.
About CampgroundSigns.com
CampgroundSigns is the leading source for signs to enhance camping experiences. Find over 300 designs of No Fishing, No Hunting, Campfire, Campground Registration, Hiking Trail, RV Signs and more. These weatherproof, rustproof signs last for 10-15 years outdoors.
About SmartSign
SmartSign is one of America's fastest growing e-commerce companies and parent of CampgroundSigns.com, MyParkingSign.com, as well as more than 50 other sites. The company manufactures and distributes a wide range of signs, tags, mats, and labels. In the past, many consumers have found it hard to find, hard to design and hard to order signs with the right message. By positioning "signs as solutions," SmartSign has taken an entirely different approach. Through highly targeted, content-rich, and authoritative retail sites, the company provides specific solutions to specific problems, such as finding the right campground sign. SmartSign is widely recognized for its quality construction; its signs come with a 3M® warranty and outlast fast-fading, ink-jet signs. Other SmartSign advantages include fast and free shipping, the Web's largest range of designs, and a best-price guarantee.