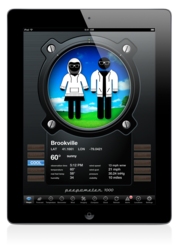 with Peepometer 1000 you can check the weather like it's 1957...
Brookville, Pennsylvania (PRWEB) April 24, 2012
New! Peepometer 1000 by swackett is an elegant weather observation instrument. Modeled after the stylish gauges, dials and meters from the 1950′s age of mechanical instrumentation, this app replicates the look and feel of a mechanical device in every detail. Peepometer's gauges and dials are faithfully reproduced in stunning high resolution, with special attention paid to mechanical functionality — even responding to subtle bumps and inertia (on iPad 2 and newer devices).
And of course, Peepometer is designed specifically for retina display in the new iPad and in all iPhone 4 devices. Peepometer 1000 will transport you back to time when meteorologists, the aviation industry, and weather enthusiasts around the world used mechanical gauges and dials to observe weather conditions. This app is a must-have for any weather enthusiast.
Instrumentation
Peepometer 1000 includes eight standard scopes, gauges and dials:

Peep Scope
Dial-a-Forecast
Temperature Gauge
Barometer
Wind Speed and Direction Gauge
Imagery Scope (including animated radar loops where available)
Compass
Clock
A True swackett App
Brought to you by the design team behind swackett, Peepometer 1000 also features the famous swackett peeps — who always appear dressed appropriately for the weather. swackett user accounts are fully supported: including your custom locations, temperature and language preferences, and your purchased swackett editions. Naturally, Peepometer 1000 sports its very own brand of swackett Easter Eggs.
About swackett®
swackett® is a whole new way to look at the weather. We convert complex weather data to easily-understood, visual weather reports designed for people of every age. Our unique approach is to combine raw weather data (current conditions, radar, and detailed forecasts) with thoughtfully crafted people symbols (called "peeps") who always appear appropriately dressed for the weather.
If it happens to be cold outside, swackett® peeps appear dressed in winter hats, coats and boots. A hot, sunny day? swackett® peeps appear wearing shorts and sunglasses — and they even remember to bring along drinking water and sunblock. Rain? swackett® peeps appear with rain jackets and an umbrella. This is a fun, fresh and truly useful weather report experience for people of any age.
swackett debuted in the Mac App Store on January 6th, 2011. Today more than 1.2 million unique users turn to swackett for their daily weather forecast.
Availability
Peepometer 1000 is available today in the App Store.
Peepometer 1000 Introduction Video