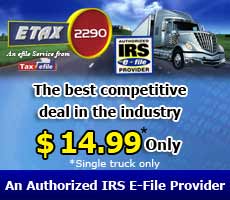 (PRWEB) April 23, 2012
Etax2290 has made the already easy to use homepage even easier to navigate. The biggest change the user will find is in the middle of the page. The new and improved window slide feature gives the user the ability to view information very quickly. The slide features a pause button and also two directional arrows. With this the user can now scroll past information not needed and pause the screen when needed to do additional reading. Etax2290 has updated the information for Form 2290, Tax Professionals, Fleet Owners and Premium Service Request. This change has given Etax2290 the ability to organize is information in a concise and easier to find method.
Take a look at the window slide, Etax2290 goes into further detail about the truck tax 2290 and the e-file service offered. Etax2290 briefly goes into detail about what makes the service unique from other e-file services. The top of the first slide outlines information for Fleet Owners. Etax2290 is prepared to handle submissions of all sizes, from single truck submissions to large company fleets. On the next slide, Etax2290 displays information for Tax Professionals. Tax Professionals are offered discounted pricing, customer assistance and bulk filing. There is also a section that outlines the benefits of filing your HVUT online. The last slide goes into detail about the Premium Service offered by Etax2290. Premium Service is available for Tax Professionals, Bulk Filers, Fleet Owners, and Individual Owner/Operators.
The change does not affect the service or the online system in any way. The new feature only allows Etax2290 to update the image a bit. With a growing customer base Etax2290 has found another way to grab even more attention.