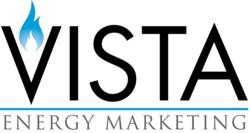 "We believe that a competitive market brings consumers lower rates and greater choice."
-Drew Henderson
Director Retail Gas
Vista Energy Marketing
(PRWEB) April 26, 2012
Drew Henderson, Director of Retail Gas, announced today that the choice gas program managed by Source Gas Utility for consumers living in Nebraska and Wyoming for the 2012 and 2013 year ends April 26th. Vista Energy Marketing is now servicing Source Gas deregulated residential and business customers in Wyoming and Nebraska in addition to being a retail natural gas supplier in several other states.
"Today more than ever, consumers are faced with keeping their energy costs down, Vista Energy Marketing is proud to be a part of the Source Gas Choice Gas program. We believe that a competitive market brings consumers lower rates and greater choice. We support choice and we are excited to bring competitive rates and exceptional customer service to consumers in Wyoming and Nebraska," said Henderson.
During the choice gas enrollment period in Wyoming and Nebraska, consumers will be able to enroll with Vista Energy Marketing online at http://www.VistaEnergyMarketing.com or through the call center by calling 1-888-508-4782.
About Vista Energy Marketing
Vista Energy Marketing is a nationwide natural gas supplier serving thousands of consumers in Illinois, California, Nebraska, Wyoming, Utah, Texas, Arizona, Nevada, Massachusetts, and Connecticut. Vista Energy Marketing consistently works to provide competitive rates and prides itself in providing best in class customer service. Vista Energy Marketing supports several charities and is a BBB accredited business. Learn more about us by visiting http://www.VistaEnergymarketing.com
# # #