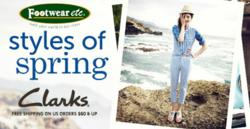 Our customers love the wide variety of styles of Clarks Shoes. You just can't beat their comfort, quality and value.
Sunnyvale, CA (PRWEB) April 24, 2012
Footwear, etc. is excited to introduce new styles of Clarks sandals, shoes, and wedges. Men and women have a many beautiful footwear options to choose from for the warm weather months. Known for its value and quality, Clarks shoes provide unparalleled comfort and style.
New Clarks models include the women's Evant Jennifer, a dressy sandal that contains lacy cutout details in the supple leather upper. The Evant Jennifer is available in Black or Taupe Leather. New from the popular Clarks Unstructured collection is the Un.Burst casual slip-on for women. Available in Mushroom or Chestnut Leather, this shoe features beautiful striking metallic details on the leather upper, soft lambskin linings, and rubber strike pads on the outsole to reduce body stress and provide traction. Customers are excited to try the new casual sandals styles this season including the Clarks Sennett Harmony. Available in Beige or Black Leather, this comfortable sandal is perfect for all sorts of activities and easy to coordinate with your wardrobe. A popular follow-up to last year's hit, the Clarks Latin Samba, is the Clarks Latin Palm. This plush flip-flop sports beautiful leather "leaves" on the upper. Returning this year is the ever-popular Clarks Sunbeat from the Clarks Springers Collection, and there are a variety of new models available from the Clarks Artisan and Clarks Unstructured Collections.
A new slip-on shoe for men is the Clarks Edwin. With its soft suede upper and removable footbed, it's the perfect shoe for casual outings. The Edwin is available in Taupe or Brown. A new sandal for men is the Clarks Hudson. Available in Brown Leather, it is a rugged sandal with a leather-lined, cushioned footbed for a great all-around shoe. This is just a sampling of the wonderful shoes available from Clarks this spring.
Sales Manager Andrew Monarch adds, "Our customers love the wide variety of styles of Clarks Shoes. You just can't beat their comfort, quality and value."
The entire Clarks Spring Collection is available now online at footwearetc.com and at their retail store locations in Northern California and San Diego.
About Footwear etc.:
Footwear etc. is a well-established, family-owned business, headquartered in Silicon Valley, CA since 1986. The company is committed to improving customers' quality of life by offering brand name products that demonstrate their belief in the need for healthful, comfortable and fashionable footwear. Footwear etc. operates nine retail stores located throughout the Bay Area and San Diego, and also offers their products on their website and catalog. To find out more, please visit http://www.footwearetc.com.