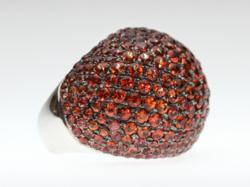 We always like to have fashion forward pieces and continually offer our clients fresh new selections to choose from
San Francisco, CA (PRWEB) April 24, 2012
San Francisco's custom jewelry store, Union Street Goldsmith, is announcing the recent addition of a large collection of new diamond and colored stone jewelry, such as earrings, necklaces, bracelets and diamond rings.
"We always like to have fashion forward pieces and continually offer our clients fresh new selections to choose from," Terry Brumbaugh, GIA Graduate Gemologist and owner of Union Street Goldsmith, said.
The large collection of new stones consist of a variety of jewelry pieces in bright pave colors like green Tsavorite; garnet; pink, blue, orange and yellow sapphires; and more. Along with the unique pieces, the collection itself spans a wide budget range, from $345 to $60,000.
"These designs are fresh and bright and perfect accents for the new season," Summer Anderson of Union Street Goldsmith said. "We even have beautiful new pieces with black and white diamonds, which look great with everyday wear or at a black-tie event."
Union Street Goldsmith's collection of new designer pieces come in rose, white and yellow gold, as well as a few pieces in sterling silver and a new 16.01-carat pave diamond necklace that is a must see.
For more information about the jewelry collection or any of Union Street Goldsmith's products or services, call 415-658-9315, view the custom jewelry store on the web at http://www.unionstreetgoldsmith.com or visit 1909 Union St. in San Francisco.
About Union Street Goldsmith
Union Street Goldsmith is a San Francisco custom jewelry store that specializes in engagement rings, diamond rings, wedding bands, 22-karat gold, platinum, pearl necklaces and jewelry repair. Glenda Queen and Terry Brumbaugh founded Union Street Goldsmith in the Marina District of San Francisco in 1976. They have been jewelers so long that they are now creating engagement rings and wedding bands for the children of couples whose rings they made decades ago.