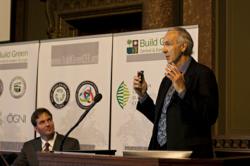 Tucson, AZ (PRWEB) April 25, 2012
Noted green building expert, author and sustainability planning consultant, Jerry Yudelson will address the ARBS conference (link) in Melbourne, Australia on May 7, 2012. In addition, he will teach a "Master Class" on May 8th for building industry participants on designing for high-performance in green buildings.
Yudelson says, "The key issue now in the green building industry is how these construction projects perform, using actual operating data, not fanciful projections. For the past two years, I have researched this issue internationally, and in this conference, I will share some of the results of my global research with the Australian building industry."
Yudelson's keynote speech will focus on the performance of the highest-rated green buildings, with the topic: "If It Doesn't Perform, It Can't Be Green." As a result, the audience will receive a "sneak preview" of Yudelson's forthcoming book, The World's Greenest Buildings: Promise vs. Performance in Sustainable Design, to be published early in 2013 in London by Routledge Taylor & Francis, a leading UK architectural press.
The green building consultant continues, "If we are serious about cutting our carbon emissions, we have to deal with commercial buildings, which globally account for nearly 20 percent of all emissions of greenhouse gases. In my new book and in this presentation, I'm challenging the building industry—and those involved in green building and sustainable design in particular—to get serious about the performance issue."
A professional engineer and experienced sustainability consultant, Yudelson has been involved with promoting the LEED green building rating system for more than 10 years and is the author of twelve (12) books on the subject of green buildings, green homes, green marketing, water conservation and sustainable development. In 2011, the US Green Building Council named him to the first class of 34 LEED Fellows.
About ARBS
ARBS is the leading business conference for designers, contractors and suppliers of air-conditioning, heating, refrigeration and control systems for Australia's commercial building industry.
About Yudelson Associates
Yudelson Associates is a leading international firm in sustainability consulting and green building certification. The founder, Jerry Yudelson, a LEED Fellow is widely acknowledged as one of the nation's leading green building and sustainability consultants and is an internationally recognized keynote speaker. He served for two years as Research Scholar for Retail Real Estate Sustainability for the International Council of Shopping Centers, a 70,000-member international trade organization. Yudelson is a frequent green building speaker at industry and professional conferences and chaired the country's largest annual show, Greenbuild, for six years through 2009.
For more information please contact Jerry Yudelson, 520-243-0996, jerry(at)greenbuildconsult.com or visit http://www.greenbuildconsult.com.