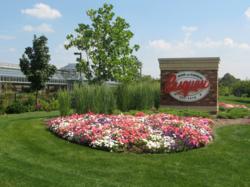 Lake Forest, IL (PRWEB) April 24, 2012
Pasquesi Home & Gardens, an independent home and garden center, is opening a third location at the historic east Lake Forest train station, located at 695 N. Western Avenue. Coming to Market Square in May, 'Pasquesi Home Gardens On the Square' will be a smaller scale store selling select plants, home and garden items. The outdoor space around the train depot will be an outdoor flower market with annuals, perennials, hanging baskets, pre planted pots and planters, herbs and vegetables. Inside the store will contain select houseplants and orchids, home and garden accents, tabletop, gifts and outdoor living products.
During the Holiday season the store will transform inside and out into a Christmas Shop. Fresh-Cut greens and wreaths, Christmas ornaments and décor will be available. 'Pasquesi Home & Gardens On the Square' will be open 7 days a week.
Pasquesi Home & Gardens currently has two locations in the north and northwest Chicago suburbs of Lake Bluff and Barrington.
The Pasquesi family has been involved in retailing on Chicago's North Shore for many years. It began in 1975, when Ed & Marie Pasquesi opened a hardware store in Highland Park. In 1984, they purchased a farm and feed store in Lake Forest, retaining the farming heritage in the name of Pasquesi Home & Farm Suppliers. As the store changed and evolved, the name changed to Pasquesi Home & Gardens with a greater emphasis on gardening. A second store was opened in 1988 in Barrington. To meet the growing needs of the business, a new store was opened in Lake Bluff in 2006, three miles north of the Lake Forest store. All three of the Pasquesi children are involved in the business as the next generation and each has specific leadership responsibilities to ensure the continued growth of the business.
For more information, contact Lisa with Pasquesi Home & Gardens at Lisa(at)pasquesi(dot)com