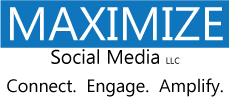 Los Angeles, CA (PRWEB) April 23, 2012
Social media management firm Maximize Social Media LLC announced its new white label program for advertising agencies looking to manage Twitter for business clients. Maximize will provide full twitter management on a white label basis to advertising agencies who are in need of additional resources to manage a clients' Twitter account. Outsourced management includes the development of tweets, re-tweeting, hash tag development, and direct message responses.
"Without a doubt there are a lot of advertising agencies that have clients that need a strong Twitter presence. But as everyone knows, Twitter can be extremely time consuming and busy ad agency executives simply don't have the time to devote to Twitter for their clients. Now we can do all the work and they can get all the credit. We have proven experience at handling Twitter for businesses and are pleased to extend our efforts to assist overwhelmed agencies," said Chris McLaughlin, CEO of Maximize Social Media LLC.
McLaughlin noted that his personal success with Twitter has given his firm an edge in properly managing other accounts. "I currently have over 160,000 twitter followers and understand the power of Twitter's open network. Businesses can take advantage of Twitter not only to brand themselves but also to generate new leads for their business," he said.
McLaughlin stated that business owners are typically unaware of Twitter's capabilities to reach new prospects until they speak with a social media agency. One example he provided was the impact on local restaurants of conventions that typically have hash tags assigned to the event for the convention goers to communicate. "Restaurants are able to use the hash tag to specifically target convention goers who would love to have a special offered to them," he said.
Advertising agencies that are interested in white labeling Twitter for their own clients are invited to contact Maximize Social Media's executive team to arrange for a consultation.
About Maximize Social Media LLC
Maximize Social Media (http://www.maximizesocialmedia.com) is a leading provider of social media management services for clients in over 40 different verticals. With offices in Florida and Los Angeles, Maximize provides social media consulting and Facebook advertising management for clients in English speaking countries such as the US, Canada, and Australia. The company also features social media management outsourcing for busy social media mangers looking for additional assistance on a white label basis.