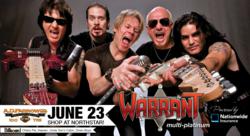 Columbus, Ohio (PRWEB) April 23, 2012
A.D. Farrow Co. Harley-Davidson recently announced that Warrant will be playing at their NorthStar location in Sunbury, Ohio on June 23rd, 2012 to celebrate America's Oldest Harley Dealer's100th Anniversary. This American Heavy Metal Band from Hollywood California is playing to guests free of charge, compliments of A.D Farrow Co.
Warrant has recorded five albums reaching international sales of over 10 million. The band first came into the national spotlight with their Double Platinum debut album Dirty Rotten Filthy Stinking Rich, and one of its singles, "Heaven," reached #1 in Rolling Stone and #2 on the Billboard Hot 100. The band continued its success in the early 1990s with the Double Platinum album Cherry Pie and the Gold album Dog Eat Dog, both albums providing more charted singles. The band continued performing and recording albums throughout the 1990s and the 2000s.
Warrant was formed in 1984. Their debut album, Dirty Rotten Filthy Stinking Rich, was released January 31, 1989 and was a significant success charting at number 10 on the Billboard 200. The album spawned 4 hit singles on the US charts: the #2 power ballad "Heaven", the #20 Power Ballad "Sometimes She Cries", the #27 rock anthem "Down Boys" which is now Warrant's alias and "Big Talk, which reached #30.
Image-wise, Warrant became a huge hit instantly and slotted right into the trend for big-haired, leather-wearing hard rock bands, and their music videos made much of their look. Allied to heavy touring with the likes of Poison, Mötley Crüe, Queensryche, Cinderella and Kingdom Come alongside huge MTV coverage. The band's momentum at this point carried them to further success with the much anticipated second album Cherry Pie in 1990.
In 2011 the band released its latest CD, Rockaholic via Frontiers Records. Warrant is currently on their Cherry Pie 21st Anniversary Tour featuring FireHouse and Trixter. On Saturday, April 28th, they will be featured on That Metal Show on VH1 Classic.
A.D. Farrow Co. Harley-Davidson is featuring Warrant as part of the "Summer of the Century" Celebration powered by Nationwide. In addition to a free concert A.D. Farrow Co. will be giving away a Harley-Davidson, providing a complimentary Hog Roast, putting on a Fashion Show with The Ohio State University, and will entertain guests all day with several vendors.