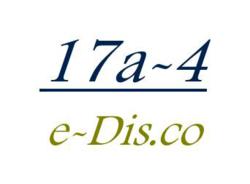 17a-4 LLC has developed the DataParser™ 7.0 for Microsoft Lync with GroupChat capture.
Millbrook, NY (PRWEB) April 24, 2012
17a-4 LLC has developed the DataParser™ 7.0 for Microsoft Lync with GroupChat capture. The demand for GroupChat capture has arisen from expanding compliance and legal requirements for companies using Lync. DataParser, in conjunction with the GroupChat Compliance Server, can now capture, archive and format this content to comply with this need.
Lync with GroupChat has developed as an interactive component to industry communications. Both internal and external uses, per given company, need to be addressed by compliance and legal. 17a-4's DataParser can capture all GroupChat content via the Group Chat Compliance Server. The information is formatted as an email message in the archive that can be accessed and viewed in the archive format or in the GroupChat format. Compliance and/or legal can view who was involved in a particular chat, for how long, what was discussed and when it took place. Each chat room discussion will be automatically captured daily, using 17a-4's DataParser, with all live and historical data.
17a-4's DataParser for Lync with GroupChat has recently been deployed for a premier provider of investment solutions in the Northeast. This has given the company expanded use of the GroupChat feature in Lync while still meeting their compliance archiving regulations set forth by the Securities and Exchange Commission. Without this direct capture ability, their GroupChat functionality would be limited.
17a-4 LLC is an e-messaging compliance and litigation consultant focusing on information governance solutions. "Our philosophy is to provide software enabling our clients to capture and format e-messaging content so that their institution has a unified, normalized archive. This simplifies e-discovery and legal holds as all content is in a single repository rather than spread throughout the organization... allowing cost-effective and timely production of content regardless of the originating platform or format." says Charles Weeden, Managing Partner, 17a-4 llc.