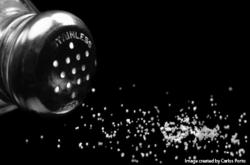 The current sauce work I've done shows a 20% reduction in sodium levels.
Surrey, BC (PRWEB) April 24, 2012
Wok Box, the fastest growing Asian quick service restaurant in Canada, has worked extensively through R&D on creating more healthy options in its menu offering. These initiatives started in 2010 in relation to a growing national concern for high sodium levels in today's restaurant food, especially in the fast food sector.
The results are already shown on Wok Box's menu, some of which are highlighted through the Heart and Stroke Foundation's "Health Check" program, which meet low-sodium, fat and cholesterol criteria.
Driven by executive chef Don Letendre, the R&D at Wok Box's test kitchen takes several key approaches. Letendre works with new fresh ingredients and recipes to achieve the same sauces Wok Box customers know and love, but with significantly lower sodium. Letendre also researches production techniques which can achieve healthier, natural sauces. Working with strategic supplier relations, Letendre is able to make great products at an acceptable cost that are better suited for today's consumer lifestyles.
"Wok Box has a long term plan to continue with healthy initiatives. Right now, the current sauce work I've done shows a 20% reduction in sodium levels for many dishes since Wok Box first opened in 2004. In addition, we have some meal options that are approved by the Heart and Stroke Foundation (heartandstroke.ca) in Canada. All our dishes are trans-fat free with no MSG added", says Letendre.
Wok Box's menu also offers Vegetarian, Vegan and Wheat Free choices at all locations.
About Wok Box
Wok Box is one of North America's fastest growing quick service restaurants, offering freshly cooked and healthy Asian cuisine over 60 stores. Its sauces and dishes are inspired by a wide variety of Asian influences including the use of authentic spices and high quality ingredients.
Wok Box will soon open up USA locations in Oregon and Arizona in 2012.
Follow us on Twitter @wokbox