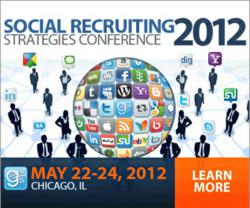 [T]he conference was really focused and targeted – which allowed people to have a real depth of conversation.
San Diego, CA (PRWEB) April 25, 2012
The Social Recruiting Strategies Conference (SRSC) – Chicago – May 22-24, 2012, was recently pre-approved by the HR Certification Institute for 17.5 credit hours.
GSMI has gathered the best and brightest speakers in the recruiting industry to present best practices and featured corporate case studies including Sodexo, Crowe Horwath, LLP, and Pfizer. The conference will offer one full day of workshops and two conference days with multiple case studies and interactive learning sessions. Speakers and attendees will have three days to take advantage of valuable networking opportunities. Johanna Danaher, Sr. Manager, Global Talent Acquisition, Branding and Communications recently said, "[T]he conference was really focused and targeted – which allowed people to have a real depth of conversation."
This informative event will help organizations to:

Develop a social recruitment strategy
Track and measure their social recruiting efforts
Understand how their organization can benefit from utilizing recruiting tools such as LinkedIn, YouTube and Twitter
Evaluate and illuminate employment brand through sustainable recruiting
Learn to find the right candidates for their organization
Learn from social recruiting thought leaders including William Tincup, SPHR, of Tincup & Co. and Co-Host of DriveThruHR, Jason Seiden & Craig Fisher of Ajax Social Media, Maren Hogan of Red Branch Media, Sarah White, and many more HR and recruiting pros.
Don't miss out on the valuable sessions, case studies, interactive workshops, and networking opportunities that await every attendee. To register, please visit http://www.socialrecruitingstrategies.com/ or call at 888.409.4418. The early bird discount has been extended to Friday, April 27th – register this week and save $200.
Can't make it to Chicago in May? SRSC will be back in San Francisco, January 29-31, 2013.
About the HR Certification Institute:
The HR Certification Institute, established in 1976, is an internationally recognized certifying organization for the human resource profession. Today, more than 115,000 HR professionals worldwide proudly maintain the HR Certification Institute's credentials as a mark of high professional distinction. The HR Certification Institute is a global leader in developing rigorous exams to demonstrate mastery and real-world application of forward-thinking HR practices, policies and principles.
About Global Strategic Management Institute:
GSMI is a leader in the industry of executive education, creating conferences, summits, workshops and training sessions that combine rich learning environments with the opportunity to network with today's most relevant thought- leaders, speakers and practitioners. GSMI's annual events have reached 70% of the Fortune 500 companies, in over 30 countries, and cover topics that today's leaders find most challenging and inspiring. More information about Global Strategic Management Institute and the Mobile Marketing Strategies Summit can be found at: http://www.gsmiweb.com.