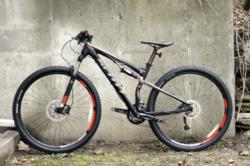 10% of all profits from any bike sales will be dontated to the Cady Hill Forest Project
Stowe, Vermont (PRWEB) April 24, 2012
Following a small burst of winter last week, and now another heat wave, members of the Skiershop.com staff couldn't be happier with the recent arrival of Scott Bikes to the arsenal of high-end bikes that the shop offers.
"Scott is a true innovator of new technology," notes Mike Thomas, buyer and store manager for Skiershop.com. "Featuring on-the-fly adjustable suspension, the lightest production bikes made, and a full product line of road, mountain, commuter and kids bikes, along with clothing and accessories - they have everything to outfit the most demanding cyclist," explains Mike.
The shop is carrying a full array from Scott, most notably featuring the Scale 29, a full suspension 29'er, the CR1 Team Road Bike, Voltage FR 20, and the Genius adjustable travel trail bike.
Partners Bobbie Roehm and Daniel Burgess of Skiershop.com and Bikestowe.com are donating 10% of the profits from all bike sales to assist in saving the Cady Hill Forest network of trails and give back to the riding community. Bikestowe.com is organizing weekly rides where everyone is free to donate to the cause and enjoy a great trail-ride, the group leaves from Skiershop.com at 580 Mountain Road, Stowe Vermont. Give a the shop a call and enjoy great riding all season long.