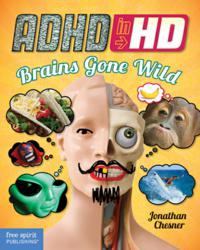 "Readers with ADHD, and anyone else for that matter, will like the 'go for it' spirit of a writer who found blessings in his struggles with his 'special brain.'"
—Kirkus
Minneapolis, MN (PRWEB) April 24, 2012
Free Spirit Publishing releases ADHD IN HD: BRAINS GONE WILD ($14.99, Free Spirit Publishing), by 28-year-old actor Jonathan Chesner. ADHD IN HD is a kinetic collection of Chesner's frank personal stories of failure and success, hilarious anecdotes, wild ideas, and point-blank advice for teens and young adults with ADHD. The book addresses the four main characteristics of ADHD: hyperactivity, impulsivity, inattention, and indecisiveness. While most books on ADHD are written to parents and educators, this book is written to hold the attention of the teen and young adult ADHD reader with more than 60 short essays, interesting topics, wacky illustrations—all stamped with Chesner's irresistible humor.
Kirkus Reviews said in ADHD IN HD, "Chesner offers plenty of good-hearted advice on such topics as dating, homework, snacks, and family life, concluding by advising readers to follow their hearts and dreams. He cautions that life isn't a fairy tale, and 'most dreams don't come true,' but readers will never know if they don't try. Readers with ADHD, and anyone else for that matter, will like the 'go for it' spirit of a writer who found blessings in his struggles with his 'special brain.'"
Chesner was diagnosed with ADHD at age 9, and since then he has tried to use his special powers for good (like being creative and energized) instead of evil (like getting sent to the principal's office). He says, "Growing up, it's easy to focus on the negative aspects of ADHD, like being reprimanded for talking out of turn in class or your inability to focus or read social cues. Since you can't tell who has ADHD by looking at them, the goal of this book is to let fellow special brains know that they aren't the only ones who struggle with this stuff. Just knowing that this book can make a special brain's life better stokes me out to no end!"
Chesner, a San Diego native who lives in Los Angeles, has appeared in national commercials and television shows such as "Veronica Mars" and "Bones." While attending the University of Southern California, he turned his off-campus apartment into an art studio/art gallery/surfboard shaping room/T-shirt factory. Major surf companies like Von Zipper and Future Fins have incorporated his conceptual work. Chesner is currently at work on patenting a line of ergonomic wheelchair grips, called Hi Five Hand Holds.
Learn more about Jonathan at http://www.jonathanchesner.com.
About Free Spirit
Headquartered in Minneapolis, Minnesota, Free Spirit is the leading publisher of learning tools that support young people's social-emotional health and their educational needs. Free Spirit's mission is to help children and teens think for themselves, succeed in life, and make a difference in the world. For more information, visit http://www.freespirit.com.
ADHD in HD: Brains Gone Wild
ISBN 978-1-57542-386-9 / $14.99 / Softcover / 160 pp. / two-color / 6" x 7½" / Teen Nonfiction / Over 60 "mini-essays"
Praise for ADHD IN HD:
"Should be read by all educators and given to any adolescent diagnosed with this disorder."—VOYA
"Upbeat and informative."—Booklist
"Readers with ADHD, and anyone else for that matter, will like the 'go for it' spirit of a writer who found blessings in his struggles with his 'special brain.'"
—Kirkus
"ADHD in HD is good fun advice for special and non-special brains alike, but instead of coming from some random dork, it comes from Jonathan, who's like your buddy from high school—but in the future."
—Matt Powers, Formula DRIFT pro driver, driftparty.com
"Chesner's creativity, wit, and accomplishments in life seen throughout this book are an inspiration to anyone diagnosed with a 'disorder' . . . and seeing through the lens of ADHD can be a beautiful way to experience life."
—Shayne McIntyre, host of Fuel TV's On Surfari