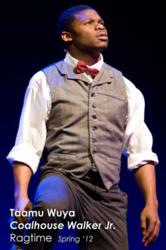 Lynchburg, VA (PRWEB) April 23, 2012
For each show in the 2011-12 academic season at the Tower Theater, Liberty University students have earned Irene Ryan nominations for exceptional acting, design and/or management. The honors come from the Kennedy Center American College Theater Festival (KCACTF), a national theater program that involves more than 18,000 college students. Nominees are eligible for a regional competition next February where they will have a chance to win scholarships.
"It's like being nominated for a Tony Award at the college level. It means they have risen as the cream of the crop," said Linda Nell Cooper, chair and director of theatre programs and director of the new Alluvion Stage Company.
The awards are named after late actress Irene Ryan, best known for playing Granny Clampett in The Beverly Hilbillies. In its last five shows, the Department of Theatre Arts has had a combined twelve students nominated for the awards:
Jeff Sundheim (Oklahoma!)
Will Viriato (Oklahoma!)
Tyler (TC) Williams (Oklahoma!)
James Bock (Little Shop of Horrors)
Sarah Seaman (Little Shop of Horrors)
Jamie Cloutier (Romeo & Juliet)
Ruth Hitchcock (Romeo & Juliet)
Zachary Battiste (Ragtime)
Carson Burkett (Ragtime)
Taamu Wuya (Ragtime)
Gordon Lewanowicz (The 39 Steps)
Kyle Rodgers (The 39 Steps)
All were nominated for acting, with the exception of Battiste and Williams, who were selected for stage management.
Currently, Tower Theater is housing Alluvion's inaugural show, Peter Pan, which will run through April 29. Alluvion is a professional, non-profit theater company that seeks to provide a family environment for the community.
Liberty University, located in Lynchburg, Va., is the world's largest Christian university. More than 12,000 students attend classes on its 6,500-acre residential campus and more than 70,000 study in its thriving online education program.