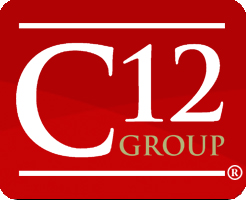 Greensboro, NC (PRWEB) April 30, 2012
During the Spring Workshop for C12 Area Chairs held March 28 – 30 in Atlanta, GA several C12 leaders were recognized for their performance, impact, and innovations in serving their members, as well as for their longevity with The C12 Group. Eighty C12 leaders and their spouses gathered during this time for fellowship, prayer, and sharing of best practices in serving their Christian CEO members. Annual performance awards and milestone recognition were given to the following C12 Chairs:

10-year Service: Rudolph Uys (Gainesville, GA)
5-year Service: Grant Edwards (Greer, SC), Joe Galindo (Addison, TX), Tom Jordan (Austin, TX), Tom O'Dwyer (Dallas, TX), Steve Simpson (Colorado Springs, CO), Randy Warwick (Cincinnati, OH)
Hitchcock Chair of the Year: Bill Maddox (Asheville, NC)
Rookie of the Year: Mike Burkesmith (Beaverton, OR)
Member Loyalty: Rick Laughridge (Lexington, SC) and Jim Steele (Kinston, NC)
Most New C12 Members Registered: Tom Jordan (Austin, TX)
Working the Numbers: Chuck Eapen (Washington Twp., NJ)
"C12 is honored and privileged to have so many Chairs who providentially combine excellent business leadership experience with a sense of long-term calling and commitment in serving our C12 members as they 'Build GREAT Businesses for a GREATER Purpose,'" said Don Barefoot, President and CEO of The C12 Group. He continued, "We are blessed to have nearly half of our more than 50 Chairs who have now served from five to fifteen years in this important work."
C12 was founded by Buck Jacobs, a dedicated Christian, author and CEO, in 1992. C12 is a growing network of more than 1100 members in 75 metro areas across America and is comprised of Christian CEOs and business owners who desire a trustworthy peer advisory board and seek to 'Build Great Businesses for a Greater Purpose'.
# # #
If you would like more information on The C12 Group, please go to http://www.C12Group.com or contact C12's Home Office (336-841-7100 or info(at)C12Group(dot)com).
The C12 Group
4101 Piedmont Parkway
Greensboro, NC 27410
Phone: 336-841-7100
info(at)C12Group(dot)com
http://www.C12group.com