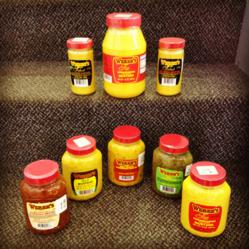 Elma, NY (PRWEB) April 24, 2012
The Made In America Store has come together with Heintz & Weber Co. to bring consumers interested in 100% American made products, a few different kinds of mustard and relishes. Weber's signature horseradish mustard is a household name in Western New York along with their other kinds of relish.
The Made In America Store now carries eight different kinds of mustard and relishes from Heintz & Weber Co., including, Original Horseradish, Dill Pickle Relish, Hot Piccalilli Relish, Hot Texan Sauce and a Mild Horseradish Mustard which all comes in a 16oz. container. Weber's also offers the Original Horseradish Mustard in a 32oz container. Consumers can also purchase from two lines of 6oz. hot mustard in both Jalapeno Mustard and Hot Garlic Mustard.
Consumers interested in trying or stocking up on Weber's Hot Mustard & Relishes can visit http://www.MadeInAmericaStore.com to place their orders or visit our store location in Elma, New York.
Heintz & Weber Co., Inc. was founded in 1922 at the Broadway Market by Joseph C. Weber and John Heintz. In 1926 Heintz was bought out by Weber in 1926 and since then has been family owned and operated. This is one of the key elements the Made In America Store looks for in a vendor and is the meaning behind "Must feed an American family."
In the late 1930's, Heintz & Weber Co. expanded from the Broadway Market to four different manufacturing facilities in South Buffalo. Weber started becoming a household name when over 300 different privately owned delis throughout Western New York started carrying Weber's as their mustard. This trend in the Western New York has earned his manufacturing facilities the name of the 'Pickle Plant' in the 30's, 40's and 50's.
At the time, Weber's offered over 80 different products including ten varieties of pickles, along with olives, sauerkraut and prune butter. The foundation of Weber's success was the Original Horseradish Mustard and still holds the original slogan and jingle, "A Pickle in the Middle and Weber's on Top."
Tradition is a keystone at the Made In America Store and consumers know this from the moment they walk into the store in Elma, New York. Weber's also cherishes tradition by sticking to the classic yellow color in the mustard. The recipe for the Original Horseradish Mustard has been kept secret since they started and until 1980, every jar was individually packed and hand labeled.
85 years later, Weber's Mustard is still the number one selling mustard in all of Western New York.
The Made In America Store is located at 900 Maple Road in Elma, New York and is committed to selling 100% American manufactured products. You can visit http://www.MadeInAmericaStore.com for more information or shop our catalog of over 290 vendors that are devoted to producing USA made products. All US military personnel both active duty and retired receive a discount every day. Consumers can also keep up to date news articles, events, photos and contests with Facebook, Twitter, Google+, Pinterest and Tumblr!