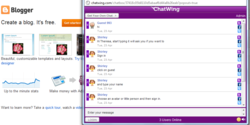 Cambridge, MA (PRWEB) April 23, 2012
Blogging is one of the important ways on how to convey information online. Some people use blogging as avenue of expressions, while others use it to generate cash on a regular basis. Bloggers who want maximum blogging potential can now take advantage of the Chatwing chat box. This application can be installed in just few seconds and guarantees immense site activity in just days and weeks.
Since Chatwing is an interactive widget, it is designed primarily for blogs and websites. Chatwing is compatible to blogs and websites that allow HTML coding. Some people install Chatwing for dating blogs in order to empower communication. Others, especially entrepreneurs, use it as an extension of customer service. They believe that Chatwing is a great professional solution for everyone.
One of the strongest features of Chatwing is social network integration. Guests and visitors can log in using their Facebook or Twitter accounts. This makes information exchange easy, compared to other applications without such integration. Now, people can send profile invites to each other, and can even find followers.
Users of this free chat box will have different ways to hype their chatting experience. They can use different types of avatar displays. Adding to that, they can also use various emoticons to mirror what they feel about a certain discussion. Anything can be discussed in Chatwing. Most common topics are dating, relationships, Hollywood, gaming, humor, and fashion trends.
Despite operating on a freemium business model, Chatwing delivers the best service equal to those applications with subscription fees. Some people even commented that Chatwing offers the best free service ever. In the blogging section, people prefer Chatwing because it is easy to use and guarantees blog activity in just a matter of days.
To stir up blog activity, some bloggers are using the free chat widget as 'idea provider.' Everyday, the blogger will post messages that can attract visitors. Adding to that, these messages can be topic tags—this is a cool way to break the ice for blog visitors. Because of Chatwing's simply unique features, bloggers are now looking forward to more upgrades and developments in the coming months.
About Chatwing
Chatwing.com has developed live chat software for websites and blogs. The Chatwing.com website offers users the ability to signup and create a customizable live chat feature in 1 minute or less. Users have the ability to customize the size, color, and fonts of the chat product. The ability to chat via social media accounts such as Facebook and Twitter enable Chatwing to offer a personal and unique real-time experience to all sites. Chatwing is 100% free web software.