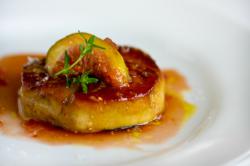 Pine states, "Consumers love the flash frozen foie gras portions because in less than 10 minutes the foie gras can be removed from the freezer, seasoned, scored, seared, and served."
Reno, NV (PRWEB) April 25, 2012
In response to the California foie gras ban, Mirepoix USA (enjoyfoiegras.com), a leading online purveyor of specialty gourmet foods and traditional French foods, is launching a series of promotions, offering discounted packages containing foie gras products that can be stored for up to two years in the freezer. Consumers can save 15 – 30% on foie gras now through June 30, 2012 with Mirepoix USA's "Stock up and Save" sale.
Beginning July 1, 2012, it will be illegal to produce or sell foie gras in the state of California. California State Senate Bill No. 1520 (SB 1520), introduced in 2004, prohibits force feeding birds and prohibits the sale of any product "if it is the result of force feeding a bird for the purpose of enlarging the bird's liver beyond normal size". California restaurants must eliminate foie gras from their menus. Gourmet food stores, butcher and charcuterie shops, and even on-line stores, will no longer be able to sell duck or goose foie gras in the state of California. Those who continue selling foie gras in the state will risk receiving citations of up to $1000 per violation per day.
Not only will it be illegal to sell foie gras in California, but all products derived from a bird raised to produce the popular delicacy will also be banned. Any product that comes from a "foie gras duck", including duck legs confit, duck breasts, duck sausage, duck prosciutto, duck fat, and even duck feathers cannot be sold in California.
Laurel Pine, Mirepoix USA founder, reports, "We have been receiving dozens of calls each week from Californians who want to continue to enjoy the soon-to-be banned product. We encourage foie gras connoisseurs to purchase products that have a long shelf life, and store them in the refrigerator or freezer. Some products can be stored in the freezer for up to two years, without compromising the delicious flavor and buttery texture of foie gras. Currently, this is the best solution for connoisseurs who don't want to give up their beloved foie."
In response to the strong interest in the soon-to-be-banned products, Mirepoix USA is offering 15 – 30% discounts for Rougie and Hudson Valley Foie Gras packages. Most of the products in the packages have FDA approval to be stored in the freezer for up to two years. Many of the packages contain Mirepoix USA's most popular product: pre-sliced, flash frozen foie gras portions. Hudson Valley's flash frozen foie gras, which comes in 2-ounce portions, individually shrink wrapped and contained in a re-sealable freezer bag for easy use and storage, is Mirepoix USA's best selling product.
Pine states, "Consumers love the flash frozen foie gras portions because in less than 10 minutes the foie gras can be removed from the freezer, seasoned, scored, seared, and served."
Mirepoix USA, formerly based in California, is now operating from Reno, Nevada in order to comply with the new legislation. The company began marketing foie gras and other traditional French foods in 2004, and currently offers over 40 foie gras selections. In recent years the online retailer has expanded product offerings to include truffles, caviar, Wagyu and US Kobe beef, French cheeses, and a wide selection of gourmet gift baskets and gourmet food.
California restaurants and foie gras producers continue to work diligently to raise awareness about the truth of the humane farming techniques used to produce the product. CHEFS (Coalition for Humane & Ethical Farming Standards), lead by the Golden Gate Restaurant Association (GGRA), has been organizing a series of events to raise public awareness and garner support for continued availability of foie gras in California. The outcome of these efforts may eventually influence a change in the current legislation. However, until something definitive changes, California based foie gras connoisseurs will either need to give up eating foie gras or stock up.