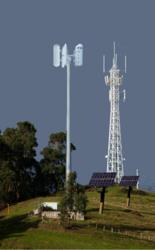 The TTS will save cell phone companies that want to install towers, or retro-fit existing ones, an exorbitant amount of money...
Nashville, TN (PRWEB) April 24, 2012
New Wind, LLC, of Nashville, a distributor of small-wind vertical-axis wind turbines (VAWTs) and other sustainable energy products, has joined forces with two other companies of the Univerdant Consortium to help create a revolutionary Total Telecom Solution (TTS). Stuart Wiston, president of New Wind said, "We are offering the telecommunication industry a sustainable, highly-affordable and cost-effective solution that will save them a whole lot of money and help them to better service their clients. The technology has been perfected for this type of hybrid system and it is exciting we can help telecommunication companies solve some of their issues as the demand for their towers has grown exponentially."
"Everyone benefits – the telecom industry gets to expand their service and better meet their clients' needs, with a solution that is sustainable, affordable, and Earth friendly," Wiston said.
The announcement of the Total Telecom Solution came on the heels of the announcement that New Wind, LLC had received $1 million in venture capital funds. "It is an exciting time for all of us involved," Wiston said.
Univerdant is a consortium of manufacturers and service providers headquartered in St. Louis, Missouri that design and implement sustainable energy solutions. Members of the consortium, New Wind, LLC, along with energy storage system company Exergonix, and solar company Syndicated Solar Inc., have joined forces to bring wind, solar, and energy storage systems to the telecommunications world by creating a system that works together that will help power telecommunication towers, cutting down on manpower, fuel, and reducing slashing the carbon footprint down by half, Nick Hennen, director of business development for Exergonix said.
Joe Steenbergen, senior business development manager for Syndicated Solar, added that one of the greatest benefits of the new system is telecommunication towers can more-easily be placed in rural areas where there is no supply from the grid. Rural-area towers without grid availability are traditionally powered by diesel generators.
The grid in rural areas and in many developing countries is often unreliable or unavailable, thus forming a barrier to reliable communications.
Wiston of New Wind said the idea makes sense because telecommunication towers are often placed at higher elevations where wind and solar are more plentiful. "Our wind turbine, along with the solar panels and batteries, would be used at least 50 percent of the time to generate the power for the tower. This cuts the generator use in half saving time, money, and is solution for those companies that need towers in rural or remote areas where access is often difficult."
Wiston said the cost of running the grid to remote towers is not cost effective whereas implementing the Total Telecom Solution has a high return on investment and is not only affordable, it is also practical and easy to install. The TTS will save cell phone companies that want to install towers, or retro-fit existing ones, an exorbitant amount of money, Wiston said.
Hennen said the amount of kilowatt hours generated by the system can be custom designed to fit the client's needs. "We at Univerdant have the skillsets within the consortium to create this product and can make it to client specifications and power needs."
The use of wind, solar, and battery storage, Hennen said, allows for generators to operate at 100 percent capacity, the most-effective setting. The system also allows the generator to be turned off at least 50 percent of the time. "By combining these two benefits, you extract as much energy as you can out of a single gallon of diesel fuel, and also minimize the amount of diesel being used in the first place."
The system the trio has created will last more than 15 maintenance-free years with a payback that will be, "less than five," Hennen said. The VAWTs New Wind has, he said, are perfect for the application. "The area you have to install these systems is very small and New Wind's vertical-axis turbines, being lower profile, efficient, and less costly is the most practical turbine for the system rather than the larger horizontal-axis turbines."
Syndicated Solar, also a member of Univerdant and co-designer of the system, represents several solar manufacturers. Steenbergen said the company offers a large line of solar panels for the TTC solution. "Syndicated Solar will be providing the solar design, modules and balance of system that feeds into the Exergonix energy storage system," he said, adding that all three companies working under the Univerdant umbrella is a natural fit. "This is a good thing for the owner or contractor of the project because they don't have to shop around and you work with people you can trust."
"Money is saved from the infrastructure of not having to do the heavy electronic wiring of the grid, and it gives power to those areas that don't even have electricity like rural North Dakota and Wyoming," he said, adding it is easy to implement.
"This is a win-win-win – somebody has a need and we are able to fulfill that need."
New Wind's VAWTS use advanced technology and offers the highest-performing generator in the VAWT sector of wind power that provides an affordable solution to today's energy needs for residents, businesses, municipalities and other government agencies. Harnessing the power of the wind through state-of-the-art technology now makes it affordable, environmentally friendly, and gives owners a high rate of investment not only by energy savings, but through local, federal, and state financial incentives, and helps those interested in becoming LEED certified, Wiston said.
For more information on Univerdant, visit their website at http://www.univerdant.com. For more information on Exergonix, visit them at http://www.exergonix.com, and to learn more about Sydicated Solar, contact them at http://www.syndicatedsolar.com.
For more information on New Wind, LLC and its line of products, contact (615) 730-5492, or visit them on the web at http://www.newwind.us.