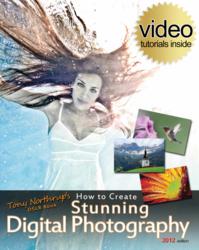 I found myself pausing a video, going to the text to confirm an idea or camera setting, checking them on my camera, and returning to the video for follow through.
Waterford, CT (PRWEB) April 26, 2012
Today, award-winning author Tony Northrup released his best-selling photography book, Tony Northrup's DSLR Book: How to Create Stunning Digital Photography, to Apple's iBookStore. Previously available in paperback, Amazon Kindle, and Barnes & Noble Nook formats, the unique book has already reached more than 100,000 readers.
The power of the Apple iBookstore enables a feature not available on the other formats: integrated video training that is available without an Internet connection. In addition to more than 250 pages of text and 375 sample photos, Stunning Digital Photography includes more than an hour of instructional video. Each video lesson can be viewed on the reader's iPhone, iPad, or iPod.
Since the initial release on Amazon four months ago, readers have received ten free updates adding text, pictures, and videos, with many more planned for the future. The commitment to continual updates prevents the book from becoming outdated as new photography trends and camera features emerge. Existing readers can download updated versions of the book for free. Because the book covers all major forms of photography in great depth, it is the last photography book most readers will ever need to buy.
At the end of each chapter, the book provides optional exercises for the students to complete to gain hands-on experience. To provide the experience of a virtual photography class, students share pictures and ask the author questions on the author's Facebook page.
Stunning Digital Photography currently has 45 reviews at Amazon.com and an average review of 4.7 out of 5. Highlights from these reviews show the impact of these innovations:
"With several hours of excellent how-to videos included along with his well-written text and superb images, Tony delivers a novel, effective and entirely engaging method for sharing his unique photographic insight. He communicates his enthusiasm for the art and craft of making images as he takes the student with him on location in his beautifully rendered videos. I found myself pausing a video, going to the text to confirm an idea or camera setting, checking them on my camera, and returning to the video for follow through." – Jefferson from Maine
"The constant updates the author is committed to is amazing. Just yesterday, months after its release, I saw a new video added…" – PlanetRegin from Jacksonville
"The videos in the ebook are also very insightful (thank you Tony for that, I'm more of a visual person, so they really helped put things to perspective- the more videos the better)." – le8 from Michigan
"The author breaks everything down into easy to understand concepts and the addition of the videos really helps clarify things. Photography can be very complex for a beginner and this book and collection of videos and illustrations simplifies it." – Jen from Atlanta
About Tony Northrup
Award-winning author Tony Northrup has published more than 30 educational books for Microsoft Press, O'Reilly, and Wiley. As a photographer, his photos have been featured on national magazine covers, book covers, CD covers, TV shows, calendars, and much more. As a video instructor, Tony has created dozens of hours of video training courses for LearnKey, InfiniteSkills, and Microsoft Learning.
For more information on Tony Northrup, visit the Northrup Photography Facebook page, follow him on Twitter at @TonyNorthrup, view his photography portfolio at http://www.NorthrupPhotography.com, and browse his stock photo library at http://www.northrup.org.