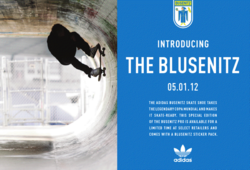 "The new Quickstrike from Adidas Skateboarding is gonna kill it."
Annapolis Maryland 21401 (PRWEB) April 25, 2012
Pure Board Shop, Annapolis Maryland, is dropping the new Blusenitz Adidas Skateboarding shoe on May 1st.
Nike SB began the Quickstrike craze.
Usually a shoe offered to only tier 1 authorized dealers, maybe once a month and very limited production numbers.
Adidas has added their name to the Quickstrike trend with Dennis Busentiz new May 2012 shoe, the BLUSENITZ.
A super clean colorway with plenty of POP to add to the excitement.
Each purchase comes with a limited color tag and sticker pack and as it is the hottest shoe in the Adidas skate line, should have no trouble selling out quickly.
Pure has seen plenty of Quickstrike products over the years from a different array of vendors.
Shoes, tees, tanks, hats and even socks from LRG, HUF, Vans, The Hundreds and SUPRA.
With loads of the same product from the same catalogs shown to every boardshop and prebooked each season, "Quickstrike" items are usually sent exclusively to the shops they are offered to and are not featured in widely distributed paper mails.
Pure has been stoked over the years to be the only shop in their area who is almost always exclusively offered these outstanding limited products.
About Pure Board Shop:
After selling Evolve in 2003 after 10 years of boardsport retailing, Robby Roberts opened Pure in his hometown of Annapolis Maryland.
Together with their website, pureboardshop.com, Pure offers a full service of skateboard, snowboard and surfboard hard and soft goods.
Pure also stocks plenty of exclusive brands and products not sold in your local mall haberdashery.