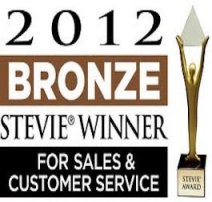 "Here at AutohausAZ we push ourselves to provide the best customer service possible on a daily basis. That kind of industry-leading service takes place before the phone even rings. Being a highly motivated, detailed individual is paramount to success."
Tempe, AZ (PRWEB) April 25, 2012
The Stevie® Awards for Sales & Customer Service honor and generate public recognition for the accomplishments of sales, customer service, and call center professionals worldwide. AutohausAZ is proud to announce that three of its customer service professionals – Tony Kopas, Mike Gallo and Andre Alekseyev – were recognized for their commitment to customers, winning three Bronze Medals for being Front-Line Customer Service Professionals of the Year.
AutohausAZ has built its 30-year reputation on professional integrity, personalized and friendly customer service and high-quality auto parts. A large part of the Company's success comes from treating customers with the utmost respect while also providing a unique personalized, caring touch in every customer interaction.
One of the Customer Service Bronze winners, Tony Kopas, had this to say, "Here at AutohausAZ we push ourselves to provide the best customer service possible on a daily basis. That kind of industry-leading service takes place before the phone even rings. Being a highly motivated, detailed individual is paramount to success."
AutohausAZ stands out from the competition by internally performing all critical functions – designing & maintaining a User-Friendly, Customer-Intuitive Website & Parts Lookup, selecting & inventorying quality brands, personally handling all customer calls and emails, and processing customer requests & orders from start-to-finish. AutohausAZ feels it is not in the customer's nor the Company's best interests to lose control over the performance of critical customer service functions and, unlike its competitors, does not outsource any of these areas. This has allowed AutohausAZ to consistently provide the personalized touch that its customers have come to expect.
"It's extremely gratifying to receive worldwide recognition from the Stevie® Awards Committee. These awards, along with all the positive feedback we receive from our valued customers, motivate everyone at AutohausAZ to continue providing the very best service possible to each and every one of our customers," stated Carolyn Lefebvre, President/CEO of AutohausAZ.
This isn't the first time AutohausAZ and its staff are recognized in one of the four Stevie® award competitions. In the 2009 Stevie® American Business Awards, AutohausAZ was honored as a Sales Team of the Year Finalist. In the 2009 Stevie® Sales and Customer Service Awards, AutohausAZ was selected as the international winner (Gold Medal) of the Online Sales Team of the Year, as well as one of the three finalists for the E-Commerce Customer Service Award. And, in the 2008 Stevie® Awards for Women, AutohausAZ was selected a finalist in the Website of the Year competition.
Winners in the Sixth Annual Stevie® Awards for Sales & Customer Service, an international competition recognizing excellence in disciplines that are vital to business success, were unveiled at a gala ceremony in Las Vegas, Nevada on February 27. More than 1,000 entries from organizations of all sizes and in virtually every industry were submitted to this year's competition, which has 27 categories for customer service.
About AutohausAZ:
AutohausAZ began in 1979 as a local European parts retailer in Phoenix, Arizona and is now an international e-retailer with one of the largest parts warehouses on the internet. The Company distributes high-quality original equipment (OEM) parts for European and Asian cars to customers in over 115 countries and retains all customer support and warehouse operations in-house. For more information on the Company and its news releases, visit AutohausAZ's press article listings at http://www.AutohausAZ/html/autohausaz-press.html or email press(at)AutohausAZ.com.
© Copyright 2012 Autohaus Arizona, Inc. All Rights Reserved; No change in content permitted.