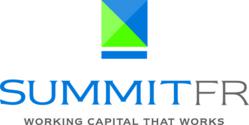 Summit worked swiftly to provide commercial financing to this large manufacturer
Salt Lake City, Utah (PRWEB) April 26, 2012
Summit recently provided immediate working capital cash for a large manufacturer of precision machine parts, underwriting this sophisticated deal structure in 10 days. This company was growing quickly and needed to increase cash flow and replace their bank line of credit. Summit moved quickly into action, creating a cash credit line and inventory-based term loan which allowed business to business financing to start flowing right away to this large manufacturer. The underwriting team worked swiftly to close the deal within a matter of days, to ensure the cash flow financing would be on the books by the company's fiscal year end. The result is a $3.25mm working capital credit line and inventory term loan, which positions the company very well for its future success. They can now fill orders, take advantage of trade discounts, and continue to grow. The bank retained the company's depository relationship and in time may gain the full lending relationship when the company is ready.
About Us
Summit Financial Resources provides working capital cash to small and medium-sized businesses in a broad range of industries.
We provide cash flow financing to companies requiring working capital recovery that cannot be provided by banks or other commercial financing sources. We understand the challenges of business financing in today's competitive environment, and our ability to be a responsive, flexible financial partner separates us from our competition. Our success is proven by the long-term relationships we build with our clients, which in turn allow them to be successful.