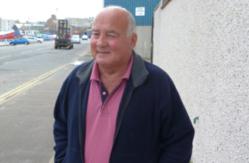 The majority of people do want to read and know the truth of this fascinating relationship between Queen Victoria and Scottish gillie John Brown
(PRWEB UK) 25 April 2012
Hitting the headlines of the Aberdeenshire weekly newspaper The Buchan Observer has shown importance to this fascinating glimpse into royal history by printing the story on their website and in their paper on Tuesday 24th of April 2012. From the Aberdeenshire village of Stuartfield, Billy Rennie, The Hidden Prince author spent four years researching and writing the book, which is originally based on oral history passed down through his family. Billy explains: "I've known the story for 40 years. I knew all the family, other than the Prince himself. "It was on Billy's first date with his late wife 40 years ago that he discovered that she was the great granddaughter of the Hidden Prince. It was only after Sheena died several years ago that Billy began to piece together her family tree. "There was a lot of secrecy surrounding it," says the 65-year-old, "Everyone was sworn to secrecy and when the Prince's son died, it was assumed that the story had died with him. But it was too late, I already knew." Now readers on both sides of the Atlantic have gave Billy's tale of mystery and intrigue the thumbs up. Queen Victoria's relationship with Indian servant Abdul Karim in the form of a documentary shown on Channel 4 which stoked royal jealousy and threatened her diamond jubilee just goes to show there is plenty of fascinating stories coming out of the woodwork but none as riveting as the secret child of royal blood between Victoria and Brown.
One reader said: "This new Title was a great read. Took me four hours to complete but have picked it up again and have read it once more. There are lots of interesting facts with a fantastic insight into Queen Victoria and John Brown's relationship with the story of their love child. It is very respectfully written also. I strongly recommend this book." Publishers in the UK refused to publish Billy's book, due to its claim-to-the-throne implications, but American publishers Dorrance agreed to publish the work last year.
It has proved hugely successful with readers, with one saying: "From start to finish it had me intrigued with all the factual and historical information that was brilliantly put together."
'The Hidden Prince' is available on Kindle from Amazon, priced £6.66 among other E-book suppliers. The printed edition is also available online and at various outlets including Waterstone's, Union Street, Aberdeen, Scotland.