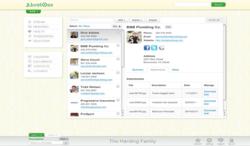 Fairfax, VA (PRWEB) April 24, 2012
Technology expert Scott Steinberg recently spoke with NewsWatch about some of the top technology products that were featured at this years Consumer Electronics Show. One of the major themes noticed this year at CES was the focus on products that make your life easier. One product that really stood out to Scott as a Top Product from CES was AboutOne's online family organizer.
What makes the AboutOne family management system unique is that it works with the tools that consumers are already using – their mobile devices, calendars and contact systems - to quickly and easily store and manage multi-media memories and household paperwork in what AboutOne calls "lifestreams", or the way this information flows and is used in real life.
AboutOne automatically formats these streams of information, when and how they are needed. Everything from health histories for doctor visits, home inventories for insurance claims, even education summaries for college applications. AboutOne also has a mobile app that gives consumers online and offline access to emergency information and contacts. AboutOne replaces the various tools that can only manage silos of information with one private and secure application to help organize everyday home life.
AboutOne has also recently launched a new version of its online organizer and free companion Windows Phone app. Building on partnerships with Microsoft, Nokia, Everyday Health, and Suze Orman, AboutOne adds online filing and reporting to customers' existing calendar and contact tools to provide fast, easy access to family memories and household paperwork. AboutOne automatically combines and formats this information so it's instantly useful – anytime, anywhere. Offering a free 30 day trial, it's patent-pending technology guides customers along the path to organization and rewards them for meeting their organizational goals. AboutOne has been featured by ABC News, The New York Times, The Huffington Post, PC Magazine, and Cool Mom Tech, and recognized as the ultimate organizational tool that provides a private, secure application to help organize home life.
Hailed as a top voice for today's high-tech generation by dozens of publications from USA Today to Forbes and NPR, Scott Steinberg has covered the field for 400+ outlets from The New York Times to Entertainment Weekly and Wired. A frequent on-air technology analyst for major TV networks including ABC, CBS, FOX, NBC and CNN, Scott's also a bestselling author and creator of the The Modern Parent's Guide and Business Expert's Guidebook series. More than one billion people have turned to his columns and reports for insight into all things high-tech. He is the CEO of TechSavvy Global.
NewsWatch is a weekly 30-minute consumer oriented television show that airs nationwide. NewsWatch regularly feature top celebrities, health tips, technology products, medical breakthroughs and entertainment news on the show. The show airs in 190 markets nationwide as well as all of the top 20 broadcast markets in the country. For more information, head to newswatchtv.com