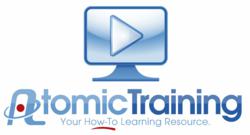 Little Falls, MN (PRWEB) April 25, 2012
Atomic Training -- the how-to learning source -- is proud to announce the addition of new Photoshop CS5 and Microsoft Word 2010 series to their online resources. Atomic Training has a library of over 45,000 tutorials, and with a constantly growing list of on-demand lessons Atomic Training can meet the demands of the workplace in minutes, and not hours. As the speed of business and information continues to increase, so does the need for individuals who can perform a required task at a moment's notice. When the need to know is needed now, Atomic Training can enable the ability and connectivity for any work environment.
With the recent inclusion of new Photoshop CS5 and Word 2010 series, Atomic Training is now offering training for advanced Photoshop users, Photoshop tips and tricks for web training, Word 2010 citation and bibliography training, lessons for mail merging, and newsletters. Atomic Training will also be releasing a series on Excel 2010 entitled Statistical Analysis Training in the near future.
Atomic Training is a how-to learning resource that is available on-demand. Whether the client is into digital photography, web design and development, motion graphics, or just a need to brush up on Excel®, one can learn all the software skills needed to gain a competitive edge with Atomic Training's online training tutorials.
To stay up to date with the latest in online offerings from Atomic Training, please visit http://www.atomictraining.com/whatsnew.
For further information or for a free trial contact:
Clay Moore
866-259-6890
cmoore (at) atomictraining (dot) com