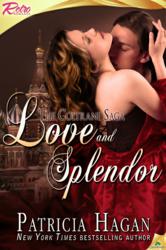 "Many of the great romances of the 1970s, 80s, 90s and even early 2000s are out of print, and never had a chance to reach a digital-savvy audience," Osborn explains. "At Retro Romance, we are giving these stories a new life and an unlimited future."
Cincinnati, OH (PRWEB) April 25, 2012
International publisher Samhain Publishing® is helping authors share past romance favorites with a robust new readership, as it launches its new Retro Romance line to eager fan interest.
According to Heather Osborn, Senior Editor for Retro Romance, the response from both authors and readers has been gratifying. "Many of the great romances of the 1970s, 80s, 90s and even early 2000s are out of print, and never had a chance to reach a digital-savvy audience," Osborn explains. "At Retro Romance, we are giving these stories a new life and an unlimited future."
Samhain's Retro Romance line features five to six new titles monthly, each available in all-digital formats, with fully redesigned covers. Spanning historical, contemporary and paranormal genres, Retro Romance's newest authors include: Jennifer Archer, Lindsay Chase, Phoebe Conn, Sharon DeVita, Kate Donovan, Sally Falcon, Dawn Flindt, Patricia Hagan, Karen Kay, Joey Light, Tracey Lyons, Lynn Michaels, Debra Mullins, Vella Munn, Janeen O'Kerry, Lynn Patrick, Karen Rose Smith, Alexandra Thomas, and Stella Whitelaw.
For authors who have older titles and want to release them digitally, but don't care to act as their own cover artist, production assistant, editor, or distributor, Samhain's Retro Romance line provides an intriguing new opportunity. Samhain takes on the entire process for authors, including scanning print books into digital files, copy editing, formatting into all of the various digital formats, cover art, advertising and promotion. For more information, please visit http://www.retroromance.com.
About Samhain Publishing
Launched in 2005 with a vision of bringing extraordinary fiction to compulsive readers (who sometimes can't wait for a book to actually be printed), Samhain Publishing® is an international publisher of eBook and traditional print fiction. One of the most prominent voices of original ebook fiction, Samhain represents some of today's brightest authors of romance and horror fiction. To learn why at Samhain "it's all about the story…", visit Samhain Publishing online at http://www.samhainpublishing.com.