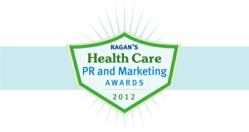 Chicago, IL (PRWEB) April 24, 2012
A startup news site that covers health care marketing and public relations unveiled its first-ever awards program this week. The PR & Marketing Awards, from Health Care Communication News, will honor in-house health care communications departments and agencies working on behalf of health care clients.
The awards will include categories related to the health care industry's use of social media.
"Given the explosion of social media use among hospitals and health care organizations, we felt the time was right for an awards program that recognizes the outstanding campaigns in this category," said Mark Ragan, publisher of Health Care Communications News.
Categories include best hospital blog, best infographic, best video, best online newsroom, and the best use of social media.
Social media campaigns aren't the only components of the PR & Marketing Awards. There are a variety of other categories that focus on more traditional elements of communications, among them: best print publication, best design, best interview or profile, best intranet, and more.
To submit an entry to Ragan's Health Care PR & Marketing Awards, follow this link http://bit.ly/JoG7H6.
About Ragan Communications
Ragan Communications operates two of the top news and information sites for the PR and corporate communications industry — Ragan.com and PRDaily.com. Together, these daily news sites attract nearly 700,000 global visitors. The company also covers the health care and HR communication industry with its daily news sites HealthCareCommunication.com and HRCommunication.com. The Chicago-based company is the leading provider of conferences and online training to PR, media relations and corporate communications professionals.