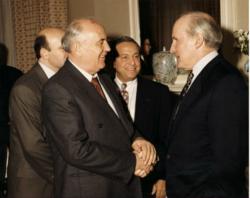 Five of the eight Nobel laureates at the Summit are represented by the American Program Bureau.
Boston, MA (PRWEB) April 24, 2012
April 23rd marked the kick-off of the 12th Annual World Summit of Nobel Peace Laureates. Held in Chicago, the Summit runs through Wednesday, April 25, and features panelists President Mikhail Gorbachev, Professor Muhammad Yunus, President Jimmy Carter, Dr. Shirin Ebadi, and President Lech Walesa, all of whom are available for speaking engagements through the Boston-based American Program Bureau (APB), which also represents such Nobel Peace Prize winners as Oscar Arias and President Ellen Johnson Sirleaf. Five of the eight laureates at the Summit are represented by APB.
"We are excited and honored to be joining President Gorbachev, with whom APB has had a long-standing relationship, at the Summit," says American Program Bureau founder and CEO Robert Walker. "Over the years we've helped him speak to audiences all over the world, and the Summit is sure to be a fascinating and eye-opening three days."
Organizations who are interested in bringing a keynote speaker to their next event should contact the American Program Bureau at 800-225-4575.
About the American Program Bureau (APB):
In business since 1965, the American Program Bureau represents a roster of high-profile speakers from entertainers and politicians to thought leaders and academics. Learn more about APB at APBspeakers.com or find APB on Twitter @apbspeakers.