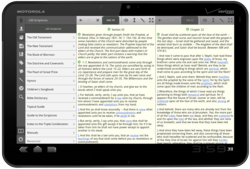 The most advanced LDS Scriptures app for Android tablets
Highland, Utah (PRWEB) April 24, 2012
"LDS Scriptures for Tablets raises the bar for LDS-based android apps," said Terry Evans, Standard Works' owner. "Tablet owners can now view two documents simultaneously using our exclusive dual-pane technology and have access to real tabs for easily switching between multiple documents within each pane. We are actually running a special offer for the next couple of days where everyone can purchase the app at a reduced rate from the Android Market."
LDS Scriptures for Tablets contains all of the features normally found in phone-based versions of the LDS Scriptures app by StandardWorks.com, but now tablet owners can also enjoy features that were previously only available on the Apple iPad platform. Features such as dual-pane viewing, PDF magazine and content support, TrueTabs integration for real desktop-like tabs, fullscreen support for text and PDF content, and several other general enhancements to the app, such as a side tools menu and improved user experience.
Standard Works LLC, founded in 2008 and based in Highland, Utah, provides many apps and services to the LDS community. There are currently over one million people using apps they have developed in-house and apps developed for third-parties. They are best known for their market leading LDS Scriptures apps, but have also developed apps for ebooks, historical documents, games, puzzles, and drawing. Their non-app division has also created several websites and backend services for in-house and third-party uses.