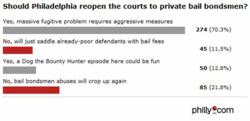 It is about time that people start looking at the commercial bail bond industry for what it really is and not for how it is portrayed on television and in the media
Calabasas, CA (PRWEB) April 24, 2012
With over 61,000 outstanding warrants and a failure to appear rate of over 30%, the city of Philadelphia is looking to an old friend to help it fix its criminal justice system. This old friend is the commercial bail bond industry, which, by the way, has been largely banned in the city for close to 40 years. For several decades, commercial bail has been proven by the United States Department of Justice, Bureau of Justice Statistics to be the most effective and efficient form of pretrial release. Why it has been missing from Philadelphia's criminal justice system for so many years is a mystery, but to see its return is a breath of fresh air. And don't just believe us when we tell you that it is about time. In a recent poll conducted on the philly.com website asking, "Should Philadelphia re-open the courts to private bail bondsmen?" Respondents answered with a resounding YES with over 70% answering in the affirmative.
"It is about time that people start looking at the commercial bail bond industry for what it really is and not for how it is portrayed on television and in the media," says Dennis Bartlett, Executive Director of the American Bail Coalition. "The commercial bail bond industry is and always has been the best way to ensure that defendants show up for court. Without the fear of losing money or knowing someone will come and get you and bring you back to court, defendants have no incentive to show up for court...and that is the problem that has plagued Philadelphia."
Bartlett recently wrote an article on this historic move back to commercial bail that was published on the philly.com site earlier this week. The article was entitled, Bail Agents Will Do a Better Job than the City.
Click on the following link to see the full results of the poll.
About ExpertBail
ExpertBail is the bail bond industry's first true national bail bond brand. Comprised of the most experienced and highest quality bail agents in the industry, ExpertBail helps consumers reduce the clutter in the bail marketplace and directs them towards a trusted, proven and experienced bail agent in a simple and transparent way. Expert Bail is backed by AIA, the oldest and largest family of bail bond insurance companies. With over 150 years of stability, trust and knowledge behind every bond written in the ExpertBail Network, our focus is on the consumer and helping them through a difficult time. The mission of ExpertBail and its network of agents is not only to meet the expectations of our customers, but to exceed them substantially.
About AIA
The AIA family of companies has been partnering with agents across the country for over a century. Formed in 2003 as an alliance of the surety bail industry's leading companies Allegheny Casualty, International Fidelity and Associated Bond, AIA utilizes a unique "service-focused" approach to management that provides its family of agents with the knowledge, tools and commitment they need to grow their business and succeed. AIA has become the overwhelming industry leader in agent service, national coverage, bail written and number of agents.