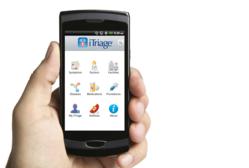 The Early Check-In feature on iTriage allows patients to coordinate their arrival with us and potentially reduce their wait time
Denver, CO (PRWEB) April 24, 2012
OnPoint Urgent Care today announced that they have collaborated with iTriage® – a free consumer-based health care application that lets smartphone and Web users access health information, obtain directions to their facilities, and even pre-register for a visit.
When patients use the iTriage application to locate OnPoint Urgent Care, they have the option to click the "Tell Us Your Coming" button and provide details like name, phone number, symptoms, and any other information to help staff prepare for their arrival.
"OnPoint Urgent Care is committed to providing the community with the resources to access prompt, convenient medical care when unexpected illness and injuries occur," said Dr. Jonathon Mihok, Medical Director OnPoint Urgent Care. "The Early Check-In feature on iTriage allows patients to coordinate their arrival with us and potentially reduce their wait time."
iTriage also provides information about hundreds of medical symptoms, causes, treatment options and directions to nearby medical providers including OnPoint Urgent Care's Aurora and Highlands Ranch locations. iTriage is available as a free download for iPhone® and Android™ mobile phones from app stores. Internet users can find the same information on the iTriage website at http://www.iTriageHealth.com.
About OnPoint Urgent Care
Founded by three emergency physicians, OnPoint Urgent Care has two convenient locations in Highlands Ranch and Aurora. The staff is highly skilled at managing acute and episodic conditions, as well as major trauma and critical illness. Though many ER visits are not true emergencies, the experienced team is well prepared to recognize when the ER is truly needed. Both facilities are equipped with a laboratory, digital x-ray equipment, EKG and on-site prescription medications for common treatment regimens. In addition to providing immediate access to neighborhood injuries and illnesses, OnPoint Urgent Care offers a full range of occupational medicine care and preventative medicine services. Both locations are open 7 days a week and no appointment is necessary. For more information, please visit http://www.onpointurgentcare.com.
About iTriage
iTriage, LLC is a global healthcare technology company. It was founded in 2008 by two emergency medicine physicians and is headquartered in Denver, Colorado. The company's platform and mobile/Web application, iTriage, offers a proprietary Symptom-to-Provider™ pathway that empowers patients to make better healthcare decisions. iTriage helps people answer the two most common medical questions: "What could be wrong?" and "Where should I go for treatment?" Millions of consumers around the globe have downloaded the free iTriage mobile app on their iPhone and Android devices, and thousands of healthcare providers use iTriage to reach and communicate critical facility and service information to patients. For more information, please visit http://about.iTriageHealth.com.