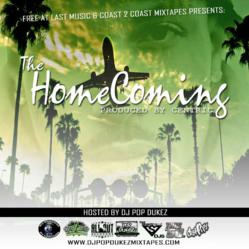 Miami, FL (PRWEB) April 23, 2012
Producer Centric recently released his mixtape "The Home Coming." Presented by Coast 2 Coast Mixtapes and Free At Last Music, it is now available for free download. "The Home Coming" is hosted by DJ Pop Dukez, and features guest artist appearances from A+, Stat Quo, DJ Young Cee, Patrice O'Neil, Fred Knuxx, Balance, D Goode, DJ Flip Flop, Trife, Easy McCoy, J.Kodak, Kool G Rap, Wiz, Cyrano Sinatra, Sharp, San Quinn, Mistah F.A.B., Yukmouth, Skillz, Sean Price, and Raydeo J.
"Free At Last"...a phrase that started as three simple words uttered by a young preacher with a prophetic dream. It's only right a producer from California with a name like Centric, which by definition means "a central position," would be the beginning and center for a soulful universal musical movement. Centric's other compilation projects include "The Alter Ego," along with two music videos "Hear the Whispers" featuring Wordsmith and Noah Ayala, which has garnered thousands of views on YouTube; and the second video featuring an appearance from new rap phenomenon and New Jersey native Trife. "The Alter Ego" features also include DJ Young Cee (G-Unit), Big Noyd (Mobb Deep), D. Goode, A+, and Kool G Rap.
In full swing, Centric is not taking a rest. Some of his other collaborations include Canibus, Skillz, Kurtis Blow, Dipset, and Sean Price, the one half of duo of Heltah Skeltah from Duck Down Records. He has also has had interviews with radio stations such as "210 West Radio" and "Praverb's Behind the Beats." Centric has also received placements for MTV programming and has been selected by clients of Apple Inc. to provide music for online streaming clips and commercials. Centric is now looking toward the future with a new vision—one that is setting him apart inch by inch.
"The Home Coming" is available for free streaming and download at http://coast2coastmixtapes.com/mixtapes/mixtapedetail.aspx/centric-the-home-coming-hosted-by-dj-pop-dukez