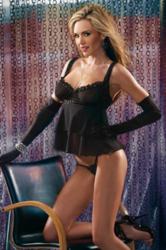 The great thing about purchasing lingerie online is the option to read reviews from other consumers.
Annapolis, MD (PRWEB) April 24, 2012
In today's market, it can be overwhelming for both men and women to decide amongst the thousands of retail options available both online and in shopping malls. While most consumers may stick to their favorite store, a little research can acquire the same item for a substantially lower price. This is especially the case when looking for lingerie. There are thousands of stores and websites selling all shapes, sizes, styles, and colors of sexy lingerie. To assist consumers with this task, My Lingerie Lounge has established the following tips to assist consumers in making this intimate purchase.
Size Matters! Even though lingerie is an item one might not wear too long, it's important to take the time and get the right size. Some items are sold XS-S, M, and L, other items have specific sizes. "The great thing about purchasing lingerie online is the option to read reviews from other consumers. If it runs small, you may see this in the reviews and this may help you make your decision. Since a lot of stores don't let you try lingerie on, it's even more important to make sure you have purchased the right size" says owner Jimmie Bell.
Choose the Right Style! One of the simplest yet effective pieces of lingerie is a babydoll set or a slip. It can be flattering no matter what the size or shape, especially for those with larger chest that also have a not so flat stomach. For those with smaller chest, try to avoid any lingerie or bras with underwire because it will just be uncomfortable. Depending on the body type one should choose lingerie that will enhance what's good and cover up what's not as good.
Color says a lot! Darker colors tend to lend to a more sophisticated and sexy mood, while lighter and brighter colors can be more relaxed and casual. With the color spectrum so vast one must make sure to put the appropriate thought into the effects color will have on the mood.
Using these tips should assist anyone thinking about purchasing lingerie. It should be an exciting moment that will lead to an unforgettable evening. If in doubt about the lingerie don't buy it, read the reviews first to see how other consumers felt.
For more information about My Lingerie Lounge, visit the company's website, or follow on Twitter @jbell_24 and Facebook/My.Ling.Lounge to stay connected with special offers and new products.
About http://www.mylingerielounge.com
Online lingerie retailer with large selection of lingerie, bikinis, bras, panties, plus size lingerie, sexy costumes, hosiery, bridal, adult party costumes, clubwear, swimwear, and adult toys! Affordable prices, fast shipping and secure ordering.