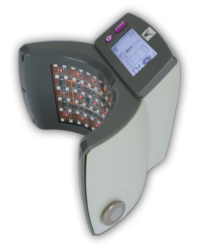 Monroe, MI (PRWEB) April 26, 2012
Physician's Technology, LLC, the firm that developed digital technology that reduces the potential for addiction to pain medication has called for an important National initiative they call the "The Pain Pill Challenge." Pain researchers and computer scientists at the firm offer this as a major step forward in bringing awareness to this growing National health issue. Government sources report that more than 1.7 million Americans aged 12 and over are addicted to pain medications, resulting in tens of thousands of deaths each year. Millions more may be at risk including many men and women in the military. The pain they endure often affects their overall health and quality of life for years; not to mention the impact on their family and friends. They are often in a lifetime of pain pill desperation. This problem is likely to grow as baby boomers continue to age.
As part of the "Pain Pill Challenge," the firm is introducing millions to the high-tech alternative to potentially dangerous pain pills. During the months of May-August 2012, the firm has announced that it will offer the WilloMD with a no-risk, 30 day trial to the first 1,000 that register for the "Pain Pill Challenge". The pain physicians ask that all participants record key joint pain metrics before and after treatments to measure the results. At the end of the 30 day trial period, each participant can either return their WilloMD for a full refund or keep it to further enjoy it for years of joint pain relief. To register and for more information: http://go.willomd.com/the-pain-pill-challenge/Default.aspx
This new and proven digital joint pain technology can fill an important gap. Things that once stretched our imagination in Star Trek are here today. Cell phones, smart devices, digital cameras, microwaves, GPS and dozens of other devices are a part of the daily lives of millions. The WilloMD is like a digital GPS for joint pain in that it specifically targets and treats joint pain right where it hurts. In younger years, wear and injury trigger toxicity and inflammation in joints. This activated the immune system to help repair and promote healing. With age, this repair process slows and toxicity begins to accumulate in the joint often resulting in damage to cartilage and soft tissue, including the meniscus. These symptoms and signs are known as Toxic Joint Syndrome. The WilloMD can give the recuperative system a boost, naturally occurring in youth, providing safe and predictable joint pain relief that can be used as often as needed with no risk of addiction or dependency. One press of the button and the WilloMD begins to collect data from the injured joint to calculate a digital prescription of energies, uniquely formulated for the user specific condition that is delivered back through the soft tissue and into the joint.
David B. Sutton, CEO commented, "Many remarkable people including athletes, and high energy performers including the Navy Seals have discovered the WilloMD. They enjoy fuller, pain free lives with the WilloMD. Unfortunately, there are millions that are stuck. We want to elevate the National discussion on pain pill addiction. To stimulate the discussion we are offering a pain free choice with a personal WilloMD no-risk trial. We are committed to results oriented digital medicine."
About Physician's Technology
Physician's Technology is an innovator in drug free, digital joint pain management technology and works with hospitals, clinics, nursing homes and physicians. The WilloMD is a safe, mobile, digital, smart device for joint pain. When applied to the skin surface, it scans for certain digital markers and instantly produces a digital prescription of energies that are safely and painlessly delivered through the skin to the joint.
The company was founded by David B. Sutton, Dr. Ronald Shapiro and Dr. Richard Dunlap to provide a platform for the delivery and management of new therapeutic technologies for joint pain. Mr. Sutton is the international technology entrepreneur, inventor, and investor in in the financial and emerging technology sectors. Dr. Shapiro, a nephrologist, has explored safe and effective ways to manage pain for decades. Because kidney patients are unable to tolerate pain medications, including aspirin, he began to research other methods that would safely and effectively reduce pain. Sutton, Shapiro and Dunlap joined together to research, develop and introduce intelligent computer aided drug free pain management technology.
Media Contact:
Phone: Mark Smith (734) 241-5060
Email: msmtih(at)willomd(dot)com
Web: http://www.willomd.com
http://www.toxicjoint.com
Twitter: @willomd
You Tube: http://www.youtube.com/user/TheWilloMD?feature=mhee