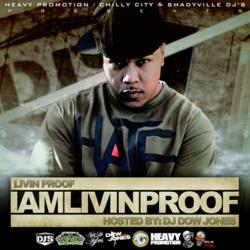 Miami, FL (PRWEB) April 23, 2012
Hip hop artist Livin Proof recently released his mixtape "I Am Livin Proof." Coast 2 Coast Mixtapes presents the project, which is hosted by DJ Dow Jones and now available for free download. "I Am Livin Proof" features Livin Proof on tracks with production from Khari Bey, Phenom, D.O.A.D. Productions, Tha Innovataz, Urkill, SK, Kwestion, Chosen, and DJ Pistoleto.
Livin Proof was born in Brooklyn, NY from Cooperpark Houses. At the young age of nine, he tarted in a group called the Ill Team with members Geda K, Jo Jo, Joell Ortiz, and T.K. They performed many times for the neighborhood and for various special events. And from there the journey began.
Livin Proof then put out several mixtapes, including "Let's Go" and "Let's Go Volume 2" and went on nine tours with Roc-A-Fella artists Memphis Bleek and Geda K. Upon his last return from tour, he decided to try his talent at various underground talent shows in New York City, winning every showcase he entered, including Faces in the Crowd and King of Kings. He then headlined the "I95 Tour" with DJ Don Demarco (hosted by comedian Pain In Da Ass) and toured with childhood friend Joell Ortiz in support of his "The Brick: Bodega Chronicles" album. However, it would take the Jay-Z's "Blueprint 3" U.S. and Canadian tour for him to meet up with his family friend from Brooklyn, and Chilly City's CEO, Shannon Shell. They have since joined forces to create something very special.
"I Am Livin Proof" is available for free streaming and download at http://coast2coastmixtapes.com/mixtapes/mixtapedetail.aspx/livin-proof-i-am-livin-proof