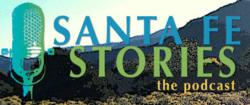 SantaFe.com is excited to partner with Santa Fe Stories in order to bring our audiences even more entertaining and informative content," said Todd Eric Lovato, SantaFe.com managing editor
Santa Fe, New Mexico (PRWEB) April 23, 2012
Beginning in February 2012, SantaFe.com teamed up with local podcast radio magazine Santa Fe Stories by featuring the organization's podcasts on the company's website. Santa Fe Stories, a podcast radio magazine, launched out to the wide open seas of the worldwide web on Wednesday, October 5, 2011. The organization can be found on the internet at http://santafe-stories.org
Santa Fe Stories, a featured podcast partner on SantaFe.com, is a completely independent, locally created and produced podcast about the City Different, focusing on arts, people and policy. It is a New Mexico non-profit corporation that strives to tell stories about the unique experience of living in Santa Fe.
Host Nancy Udell is an East Coast transplant who finds Santa Fe endlessly fascinating. She told us, "I am excited to be featured on SantaFe.com – it is a natural partnership because both of our sites are dedicated to exploring the arts, cultures, and events that make life in Santa Fe so interesting."
In recent episodes, Santa Fe Stories has followed developments of the charter school ATC deciding to leave what many thought would be its dream home; attended a "Burns Night" – a celebration of Scottish Bard Robert Burns; and talked with local artists such as photographer Gay Block and "Virtual Dinner" creator Eric Maddox.
"SantaFe.com is excited to partner with Santa Fe Stories in order to bring our audiences even more entertaining and informative content," said Todd Eric Lovato, SantaFe.com managing editor. "From current events stories to features on local art and culture, Santa Fe Stories is a well-produced addition to local media."
The team that puts Santa Fe Stories together each month includes the following individuals:
Nancy Udell, host and producer of Santa Fe Stories is an East Coast transplant who finds Santa Fe endlessly fascinating . A wife, mother, grandmother, daughter, sister and dog mom, she has been a waitress, teacher, lawyer, policy wonk and ceramic artist. Her artwork can be seen here and here. Santa Fe Stories is her latest endeavor
Jay Tincher, co-producer and audio engineer for Santa Fe Stories, is a proud Santa Fe native, an artist, designer and avid podcast listener, all things that blend well in the creation of this show. He is always interested in meeting new people, listening to their stories and following projects wherever they may lead. Like the rest of the team at Santa Fe Stories he has a microphone and recorder on hand at all times and wants to hear your stories.
Justine Freeman, research and policy analyst for the show, grew up in the City Different but spent 10 years living in San Francisco, Paris, and Washington, D.C. Freeman returned to New Mexico to use her education and experience in a more localized way – she feels her work in politics, social development, and gender equality will be most effective here at home. Justine has worked for organizations such as Human Rights Watch, the American Red Cross, USAID, and the NM Legislature, and is currently a member of the Anti-Human Trafficking Taskforce here in Santa Fe.
In conjunction with its new Facebook page, the podcast is kicking off a new Local Stories project. Santa Fe Stories is collecting stories and story ideas – contact them to share yours!
About SantaFe.com
SantaFe.com provides locals and visitors to Santa Fe alike the most current interactive platform for events, music, arts, business, dining and lifestyle. SantaFe.com is a division of Hutton Broadcasting, located at 2502 C. Camino Entrada, Santa Fe, NM 87507
Contact Information:
Scott Hutton
SantaFe.com / Hutton Broadcasting
http://www.santafe.com
(505) 471-1067 (Media inquiries only, please)