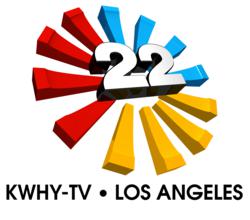 These are exciting times for KWHY- Channel 22," stated Meruelo Media President, Otto Padron "Not only are we celebrating the deep, rich and varied Hispanic culture of our city… but also, the arrival of the new Spanish language TV network, MundoFox
Los Angeles, CA (PRWEB) April 24, 2012
April 24, 2012, KWHY-TV Channel 22 is extremely proud to announce this year's Fiesta Broadway prime-time telecast's blockbuster talent roster, which is set to include performances by some of the biggest names in Spanish Language entertainment. This live entertainment music extravaganza is set to air as a same-day television mega special at 8pm on Los Angeles #1 independent Spanish-language television station, Channel 22. KWHY-TV is also using this event to celebrate its Flagship affiliation to the new Spanish language network, MundoFox launching this summer.
This year's Channel 22 Super Stage is headlined by music mega superstar and multiple Grammy® and Billboard® award winner, Pepe Aguilar. One of Hispanic music's greatest stars, with one of the most gifted voices, Pepe will embrace this traditional Mexican celebration with a world class performance. Pepe will be accompanied by the world famous Mariachi Sol de Mexico de Jose Hernandez; performing some of his all-time classics. Pepe's performance with also includes a performance of some of his newest hits accompanied by the Cheche Alara Band. Pepe is guaranteed to treat the festivalgoers, as well as the television audience, to a Standing-Room-Only show!
The event will also feature performances by Latin Grammy® Hall of Fame inductee Angelica Maria. "La Novia de Mexico" (Mexico's Sweetheart) who will charm all with a specially selected playlist of her music, which today forms part of the great Mexican Songbook. This live performance is an exceptional treat since Angelica Maria only makes limited US appearances. Her presence on the festival's super stage will be framed by a City of Los Angeles decree and proclamation presentation.
As if Pepe Aguilar and Angelica Maria weren't enough, the Channel 22 Super Stage will also feature performances by Banda Machos, celebrating 25 years of music history; from the incredible Univision comedy hit show "Parodiando", comes Gilberto Gless and his world-famous hilarious impersonations; and, music from the hometown, up-and-coming star, Julio Reyes.
To cap it off, joining our all-star roster on stage will be Ana Maria Canseco, who markes her return to television as the event's principal host joined by KWHY's news anchor team, Rolando Nichols and Palmira Perez Sharing the stage as a co-host with Ana Maria will be the talented and former RBD, Christian Chavez, who will also delight legions of fans performing his biggest hits.
"These are exciting times for KWHY- Channel 22," stated Meruelo Media President, Otto Padron "Not only are we celebrating the deep, rich and varied Hispanic culture of our city… but also, the arrival of the new Spanish language TV network, MundoFox…" He added, "The nation's largest and most popular 5 de mayo event will glow with the performances of Pepe Aguilar, Angelica Maria, Gilberto Gless and the return of Ana Maria Canseco as our host!"
Live Event:
Super Stage on 1st Street & Broadway, Downtown LA
Sunday, April 29, 2012
12pm – 6pm
Channel 22 Primetime Special:
Sunday, April 29, 2012
8pm – 10pm (PT)
KWHY-TV Channel 22 - As the flagship affiliate of the MundoFox Network, KWHY-TV Channel 22 is committed to being a leader in the Spanish language communications industry. It has a long and rich history of serving the residents of the Los Angeles DMA with relevant news & entertainment for over 30 years. KWHY-TV Channel 22 is a wholly-owned subsidiary of The Meruelo Group. For more information, please visit http://www.kwhy.com.
The Meruelo Group - With roots dating to 1986, the Meruelo Group is a diversified holding and investment company owned and controlled by prominent U.S. Latino business executive Alex Meruelo. The Meruelo Group has diverse holdings in media, banking and financial services, food restaurants and services, construction and engineering, real estate, hotel/casino operations and private equity. For more information please visit http://www.meruelogroup.com.