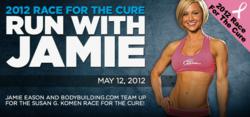 "Organizations like Race for the Cure not only offer education and medical support but a community of people ready to fight your battles with you every step of the way." - Jamie Eason
Boise, ID (PRWEB) April 24, 2012
One of the most inspirational women in the fitness industry, Jamie Eason, shares her personal breast cancer story and encourages others to join her in the race for the cure. She is joined by Bodybuilding.com, the Internet's most-visited bodybuilding and fitness site and largest online retailer of nutritional supplements, for the second annual "Run With Jamie" event in an effort to raise money and awareness in the fight against breast cancer. Bodybuilding.com and Jamie invite their fans, friends and fellow supporters to join them on the "Run With Jamie" team as they participate in the Susan G. Komen Race for the Cure Saturday May 12th, 2012 in Boise, Idaho.
"My personal experience with a breast cancer scare was life changing. I was extremely lucky to find my lump through early detection. Since then, I have drastically changed the way I eat and how I care for my body. There are typically three things that lead to disease: poor genetics, environmental issues or an unhealthy lifestyle. There is really only one of those that you can control, so my message is to be proactive and take care of your body. For those who unfortunately fall ill, organizations like Race for the Cure not only offer education and medical support but a community of people ready to fight your battles with you every step of the way," shares Jamie.
Participants have until April 30th to register for the "Run With Jamie" team. Every team member will receive a complimentary, one-of-a-kind, "Run With Jamie" t-shirt and the opportunity to race with Jamie Eason. Plus, Bodybuilding.com will be bringing back the TEAM Bodybuilding.com tutu crew (imagine male models in tiny pink tutus) if they reach their fundraising goal of $10,000.
For those who can't make the trip to Boise to participate, they can still help by donating in honor of "Run With Jamie" at Komen.org. Bodybuilding.com is also auctioning off four exclusive "Run With Jamie" shirts personally autographed by Jamie Eason on Ebay with full proceeds going to the cause.
The money raised will help provide free mammograms; medical treatment for qualified breast cancer patients who cannot afford care; support services including support groups, assistance with finding financial resources, prescription refills and transportation to medical appointments; education about the warning signs of breast cancer, methods of early detection and the latest treatment options; and cutting edge research to help find a cure for breast cancer.
For more information on the "Run With Jamie" event and how you can get involved, please go to http://www.Bodybuilding.com/RunWithJamie.
Bodybuilding.com offers more than 13,000 health & fitness supplements and accessories to help more than 13 million people every month achieve their health, fitness and appearance goals, as well as over 35,000 pages of free information, including more than 20,000 articles and videos, expert online trainers, and new content added daily.